A tool every crocheter needs
Take the headache out of your crochet projects and focus on what you love most with the Row Counter App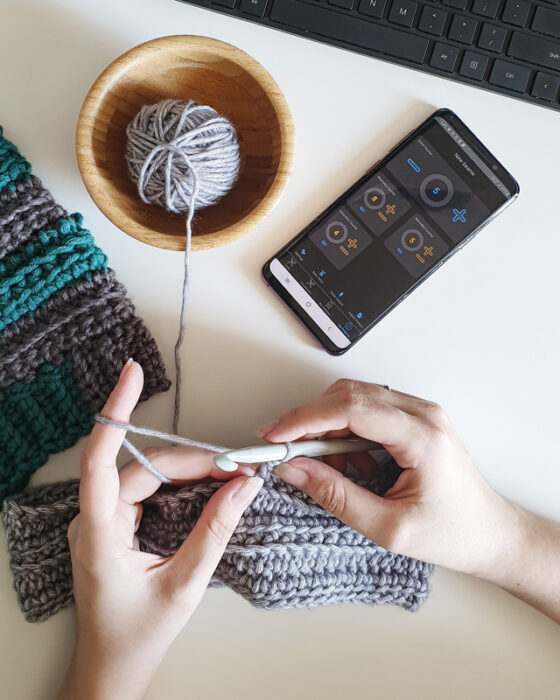 Do you ever wish there was someone to tell you exactly how many rows there are left to crochet in your sweater?
Or nudge you when you need to decrease in the sleeves without constantly looking back and forth between your project and the pattern?
Or maybe you don't want to print out a copy of each pattern, but you'd still love to be able to draw on them and make notes as you go?
If any of these sound like scenarios you've found yourself in, then you are in for a treat!
A couple of weeks ago I was asked by the lovely folks over at Row Counter App if I wanted to try out their knitting & crochet app. And since I'm always on the lookout for new tools to make my crafting life easier, I of course jumped straight at the opportunity!
Disclosure: This post is sponsored by Row Counter App. All opinions are my own.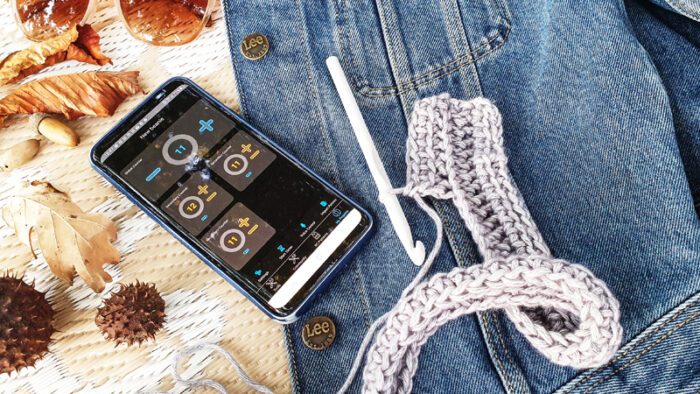 I've been using this tool for a couple of weeks now, and it's already managed to become an important part of my creative process. And that's because it makes so many things easier.
"But what's so fancy about this app? I've used counters on my phone before, what makes this one special?"… I hear you asking from behind my screen. Well, let me tell you exactly what makes it so special – there are a couple of things!
Available on mobile (Android, iOS) and on your computer, this app allows you to create and keep track of multiple projects at once, import patterns from virtually anywhere, draw on them and make notes on the go, set up reminders for key points in your project, track your time spent on a project and many, many more!
Basically, you can create an in-app project for each crochet or knitting project you have, and everything you need to know about that particular project is in there, all in one place. You can assign yarn and crochet hooks/knitting needles, you can add pictures and a description, you can import the pattern in it. Just like a notebook tailor-made for fiber arts ❤️
Multiple counters per project & reminders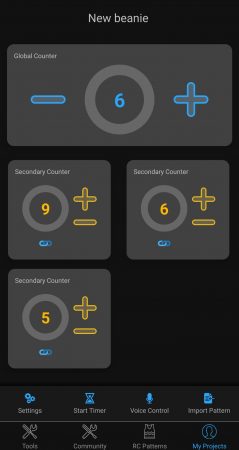 Let's jump straight in and talk about the first thing that caught my eye: you can set up multiple counters in a single project! In the spirit of staying organized, I was happy to discover that the same project can include one, two, three, however many counters your heart desires. There's a global counter, and then there are the secondary counters. Let's say you're working on a beanie that's broken up into smaller sub-sections with different stitches and colors. You can configure the counters and link them together, so that each sub-section in your beanie corresponds to a secondary counter. Each time you add a row to one sub-section, that particular secondary counter increases by 1, but so does the global counter. That way, you're keeping track of the sub-section individually, but also of the overall progress on the entire beanie.
There's a whole lot more you can do with these secondary counters. You can configure them to keep track of a longer stitch sequence within the same row, or to track when you need to increase or decrease in the pattern. Which brings me to my absolute favorite feature of them all: the ability to set up reminders!
Say you're working on a sweater sleeve and the pattern instructs you to decrease in rounds 23, 26-17, 29, 32-33, 35, and so on. This means you have to constantly count your rows and check back and forth with the pattern to make sure the round you're currently working on is, indeed, a decrease round. But with this feature, you can spend a few minutes at the start of the project and set up your decrease rounds before you start your sleeve (as seen in the first image). You input all the round numbers that need a decrease, you give the reminder a custom title (such as "decrease round") and the app will do all the work for you. You just have to tap on the "+" icon every time you finish a round, and it will automatically tell you if the next one is a normal one, or a decrease one (as seen in the second image). I seriously cannot believe I crocheted for this long without this feature in my life!23, 
Highlight & draw directly on the pattern, just like on paper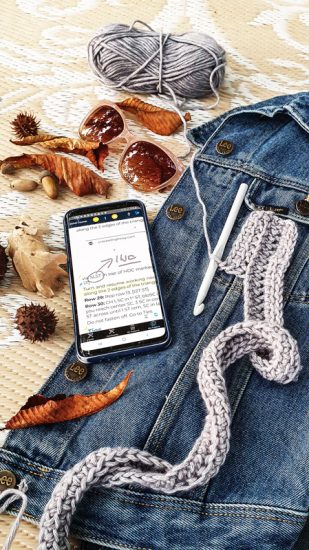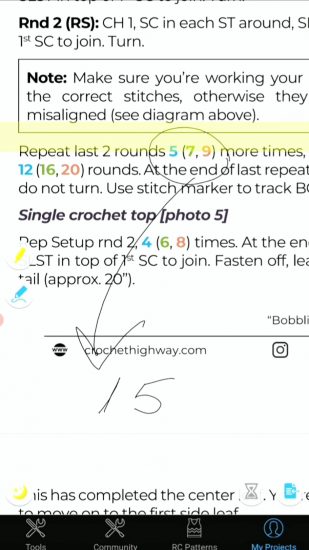 If you're anything like me, you probably ask yourself at the start of each project: do I print out this pattern, or do I work on it from my phone? If I work from my phone, then it's great 'cause it's easier to carry it with me all the time and I also don't have to waste paper. But then I won't be able to write notes or highlight stuff on it! Well, you guessed it: this app offers a solution for this.
You can highlight different parts of a text or chart vertically or horizontally. This comes in handy when working with those beautiful colorwork charts – your eyes will thank you when the row you're currently working on is always highlighted!
With the ability to draw and write directly on the pattern, you'll never have to worry about where you wrote down that specific note, or keeping separate sticky notes on your phone that you completely forget about after a while.
Import your patterns from virtually anywhere
Speaking of writing directly on the pattern, it's also extremely easy to import any pattern into the app and attach it to your project. You can link your Ravelry account and have instant access to your entire pattern library from Ravelry. No more saving and downloading and sending files all over the place! But if your pattern is in PDF or image format somewhere else, such as your computer or tablet, you can import it from there, too.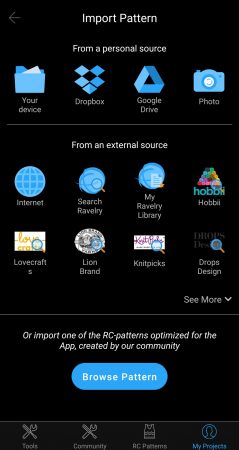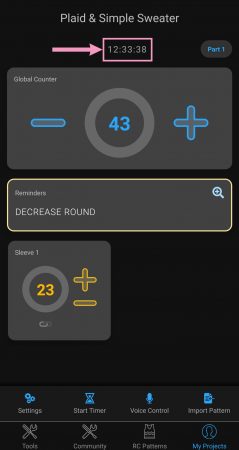 For some, tracking the hours spent on a project is a given. For others, it's not the first thing on their mind. I admit, I wasn't big on tracking how much time I spend on a particular project. Not because I'm not curious to see how many tens of hours I am capable of pouring into a sweater. But because I always found tracking time such a tedious task. I had my notes on my computer, my other notes in my notebook, various yardage information scattered about, and the last thing I needed was yet another thing to worry about. But since this app has a feature for literally anything about your crochet or knitting project, the fact that you can also track the time you spend on a project is just so convenient! The timer works even if you left the app, so you can use your phone for something else, like listening to music, while you work, and the timer will keep on tracking time!
Something very important for me is the ability to stay organized. I like to keep my yarn, my desk, and my digital files in order, so I know where to find them whenever I need them. And when you have a TON of ongoing projects at the same time, it's easy for things to get lost. And there's nothing more annoying than having to stop and look for your crochet hook, your notes, or your pattern. That's why I absolutely LOVE that this app allows you to organize your projects into folders. You can name the folders whatever you want – I chose to label them according to project category: Sweaters, Hats, Home décor, etc. This really helps keep things nice and tidy, just the way I like it!
You can also divide a project into "Parts", where each part corresponds to a different section in your WIP (for instance, for a sweater you'd have yoke, body, sleeves, hem, cuffs, etc.). Each part has its own global and secondary counters, which comes in handy when you're working on more complex projects. Everything is so customizable and you have a lot of control over your project.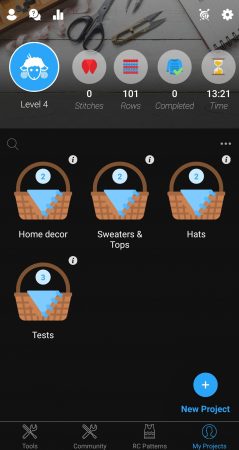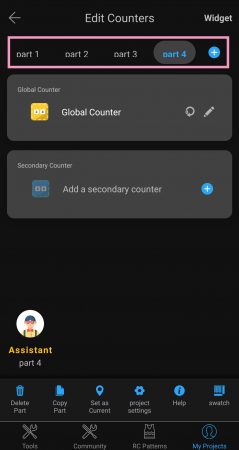 The app also comes with a handy set of extra tools that are always nice to have around. They're all neatly grouped under the "Tools" menu on the left-hand corner of your screen. I particularly enjoyed the Yarn Converter tool. Whenever you're working from a pattern but substituting yarn, there's always the hassle of figuring out how many skeins of yarn you're going to need in order to have enough yardage, based on the number of skeins that the pattern calls for. With this smart tool, you input the skeins required and the yardage/meterage of each skein, along with the yardage/meterage of the yarn you're substituting with, and it work out the math for you, telling you how many skeins you're going to need! Isn't that super convenient! There's also a needle and hook size convertor, a gauge swatch adaptor, a stitch and abbreviations glossary, a units converter and many more! I encourage you to download the app and discover them on your own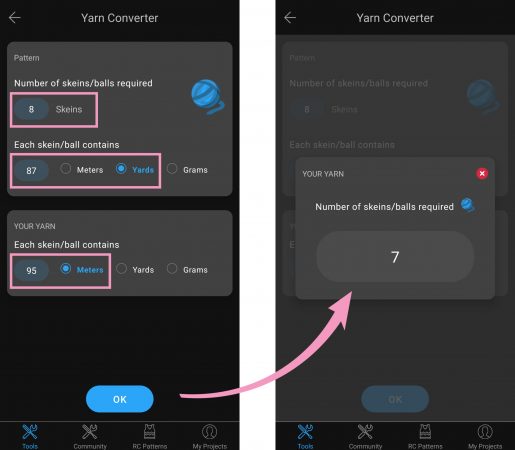 Overall, what I love most about this app is the fact that I can keep all my crochet-related stuff in one single place. I can take it with me from my desk to my couch, on the train, to the park, and anywhere I like. My notes will never get lost, I will never have to re-count rows to see where I am in the project, and I'll never forget the pattern at home because my phone is always in my pocket.
You can download the Row Counter App on Google Play or the App Store.
If you'd like to know more about how you can use this app to its fullest potential, I encourage you to check out the FAQ section on the app's website. It has a ton of tutorials and useful tips and examples on how to configure counters, how to add reminders, how to import a pattern, etc.
Thirsty for more? Why not check out some of my recently published crochet patterns and stitch tutorials: