Colorful. Sturdy. Functional. No lining required.

#MyZodiacSweater
Disclaimer: Some links on this page are affiliate links. This means that, if you click through the links and make a purchase, I will earn a small commission at no additional cost to you.
♎︎ Step-by-step instructions, tutorial photos & schematics
♎︎ Row tracker with all row & stitch counts for every section of the bag
♎︎ Any sport or DK weight yarn in the amounts shown below
♎︎ Hooks: 5 mm, 3.5 mm (only for detailing). I use my Clover Amours almost exclusively
♎︎ Tape measure, scissors, darning needle, stitch markers
♎︎ The pattern lists all the optional supplies to take your crochet bag game to the next level. No lining required.
♎︎ Easy to make the bag taller, shorter, larger or smaller
♎︎ Instructions on how to make and attach a removable and/or adjustable strap, base shaper, drawstring
♎︎ Please contact me at thecrochethighway [at] gmail.com for pattern related questions.
The Libra Bag is the sister pattern to the Libra Pullover! With a similar stitch pattern but modified for an improved drape, this sweater will go perfectly with your new bag.
To get the bundle on Ravelry, add both patterns to cart and insert code LIBRA at checkout. To purchase on Etsy, simply click on the image below:
The Libra Bag is one of the first patterns published in the Zodiac Crochet Collection – a soon-to-be series of crochet garments and accessories that follow a common theme: colorwork made easy. Use hashtag #MyZodiacSweater when posting your makes on social media!
The designs in this collection use multiple colors for a contrasting effect, but the stitch patterns are carefully selected, so that you only have to work with one color at a time. The inspiration behind this collection is my original colorwork design, the Starry Yoke.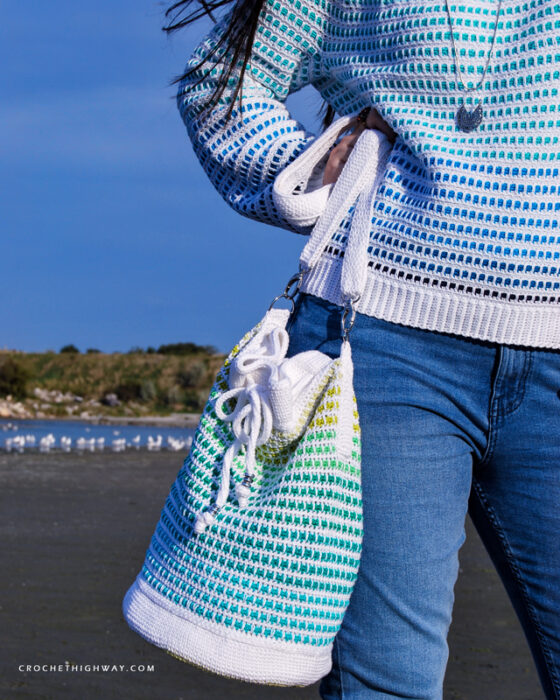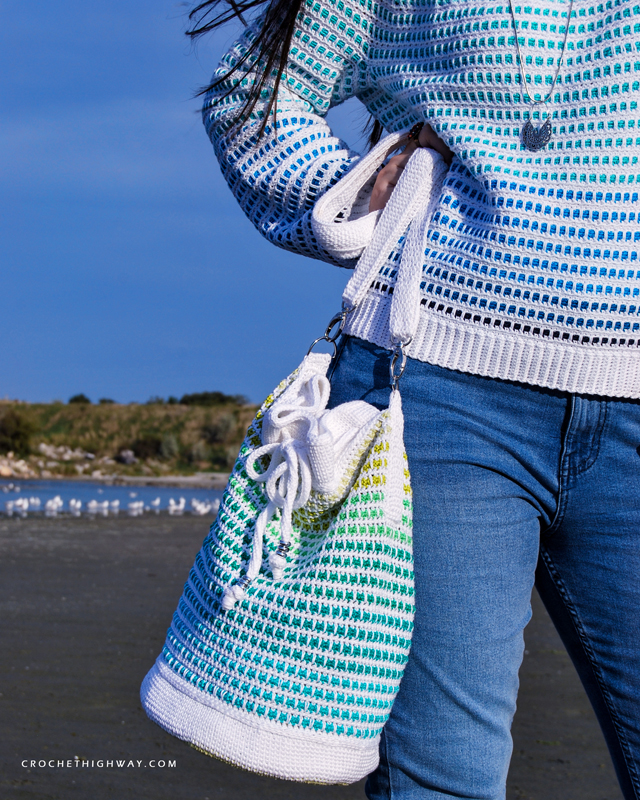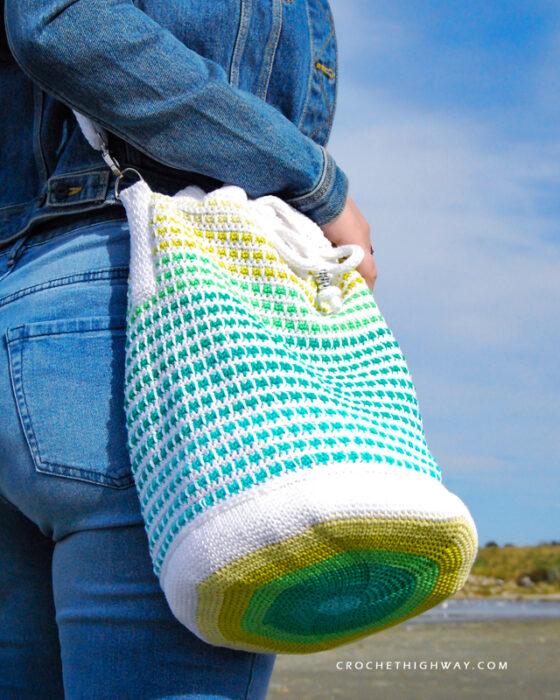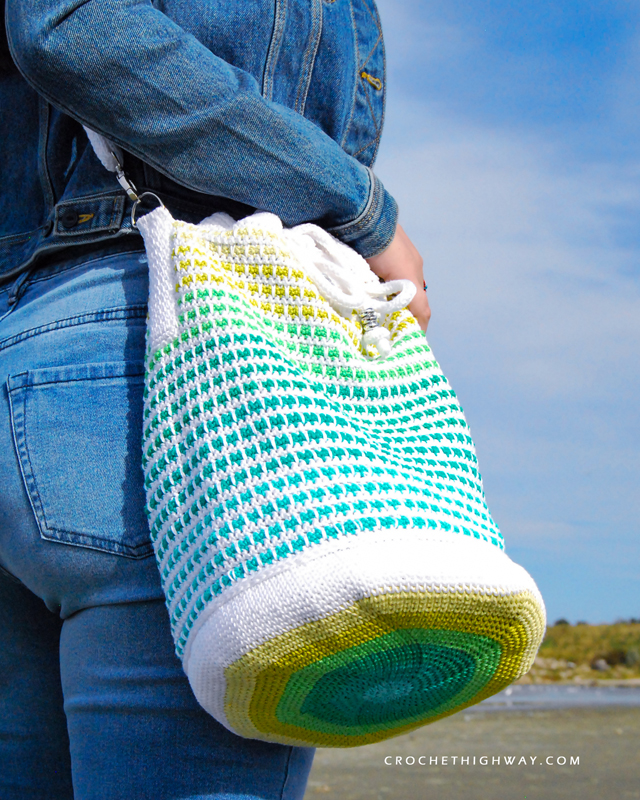 The Libra Bag is a bucket bag worked from the bottom up using almost entirely variations of the single crochet stitch. The round base is made using the thick and durable waistcoat stitch, while the body uses a fun stitch pattern with a grid-like effect. The bag is closed with a drawstring at the top and the strap is added last.
The pattern calls for sport weight yarn (category 2), but some of my testers used DK weight (category 3) with great results. Check out the tester photo gallery where I share all the details on yarns and yardages from my testers!
Go for 2 solid, contrasting colors, or show off your creativity and create gradients on one of the colors! This bag has been worked up in so many different color combos, and they all look amazing.
This upper beginner pattern has you covered with step-by-step instructions and tutorial photos for the trickier parts of the pattern.
After the crocheting is complete, I walk you through the next steps of the bag making process, with written and photo tutorials on how to make a removable and/or adjustable bag, how to make your own base shaper, how to make the drawstring. The pattern also lists all materials required. I also provide a brief example of how I added lining to the inside of my bag, however the pattern does not walk you through the lining part.
Like most CrochetHighway patterns, this pattern also comes with a detailed round tracker, laying out the stitch count for all rounds in each section of the bag. This is a handy tool that allows you to easily check your stitch count at any given point, for that peace of mind that you're on track and haven't missed anything!
I used Scheepjes Catona for my sample (100% mercerized cotton, 13 WPI) in the following colors:
Main color: 106 Snow White. Contrast colors: 253 Tropic, 514 Jade, 241 Parrot Green, 513 Apple Granny, 245 Green Yellow, 392 Lime Juice.
I'm wearing the sweater in size 3, showing 14 cm (5.5″) of positive ease around the bust. I also went for the bubble sleeves option, for the coziest crochet sweater possible. Adding ribbing at the neckline, hem and cuffs is one of my favorite ways to finish a sweater, but the pattern also provides instructions for simple, non-ribbed finishings.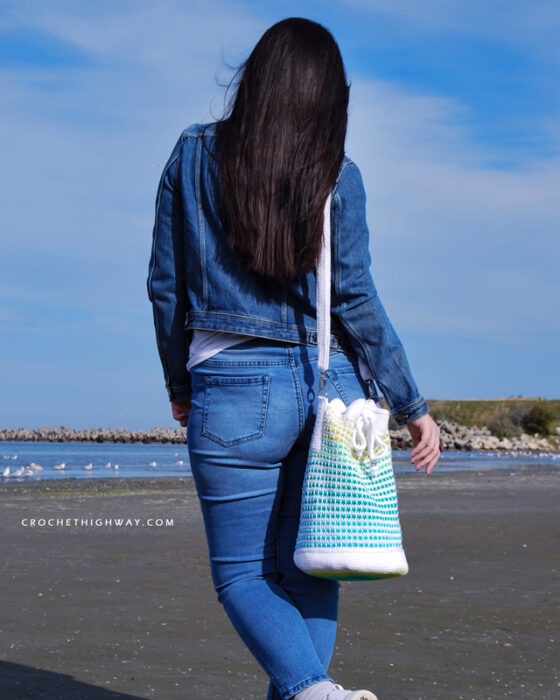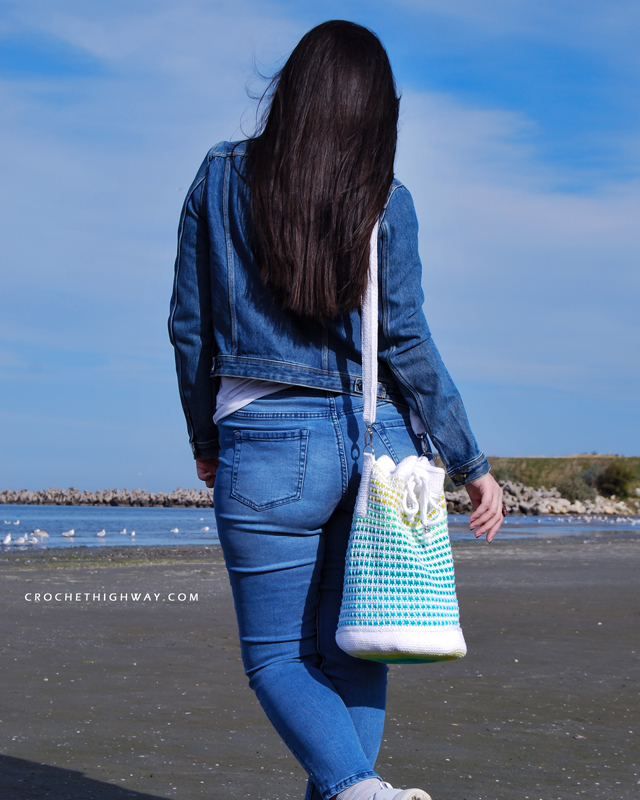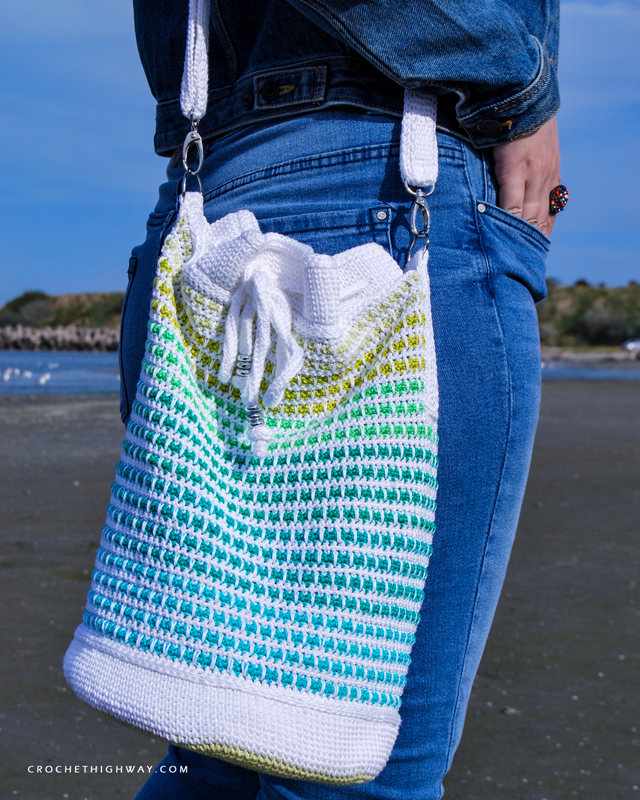 I preferred mercerized cotton for this due to its amazing stitch definition, durability, and subtle sheen. The thing about 100% cotton is that after you stretch it once, it doesn't like to bounce back to its original shape. This is not an issue if you're wearing your garment with positive ease like me, since it will not get stretched during wear. But if you want to wear the garment with less ease around the bust, I suggest a fiber with some stretch or elasticity to it (like merino, or merino/nylon blend). Cynthia made her test sample with 1″ of positive ease at the bust for a form-fitting garment, using a wool & nylon blend, and I think it looks absolutely phenomenal on her!
You'll need at least two colors. A main color (MC), and a contrasting color (CC) of any CYC 2 Sport weight, or CYC 3 DK weight yarn. Gauge isn't crucial for this pattern, but if your gauge is different, then the measurements and yardage will also vary. The approximate yardage required is:
Main color (Snow White): 623 m (681 yds)
Contrast color (total): 313 m (342 yds)
Contrast color 1 (Tropic): 48 m (52 yds)
Contrast color 2 (Jade): 55 m (60 yds)
Contrast color 3 (Parrot Green): 55 m (60 yds)
Contrast color 4 (Apple Granny): 49 m (54 yds)
Contrast color 5 (Green Yellow): 58 m (63 yds)
Contrast color 6 (Lime Juice): 48 m (52 yds)
But of course, you can mix it up and pick multiple colors within the MC or CC! For best results, I recommend you keep at least one of the colors the same throughout the bag.
You can easily make the bag taller, shorter, bigger, or smaller. The pattern measurements are:
Tried & tested substitution yarns
My testers used a variety of yarns in both sport and DK weight to make their Libra Bags. Here's a list of yarns recommended by my testers. The list is sorted alphabetically. If you're looking for inspiration or a quick yarn substitution idea, this is the place to start!
Pro tip! When gauge swatching, always crochet a swatch bigger than 10×10 cm (4×4″) — the larger the swatch, the more accurate your results! You can also get an idea of the drape your yarn will create based off of your gauge swatch.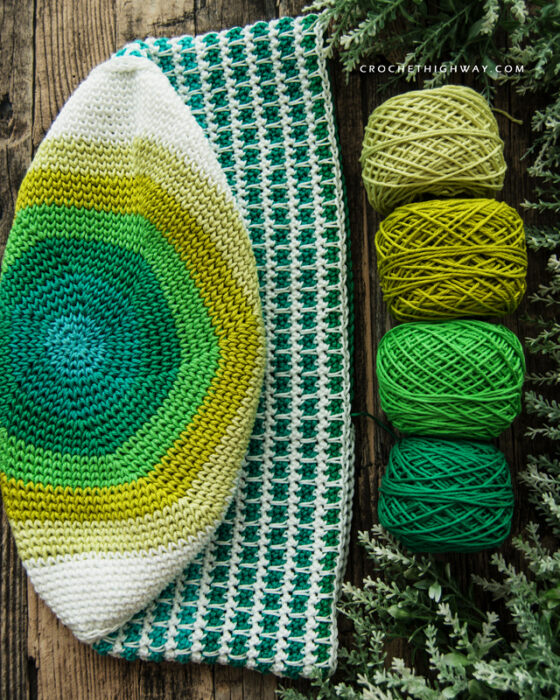 Check out my testers' versions
My patterns would not be so smooth without the input of my team of talented testers. Scroll alllll the way to the end of this photo gallery for some inspiration on various colors. Swipe left & right for more photos of your favorite versions!
Want to test my future patterns? Check out how you can become a pattern tester for CrochetHighway!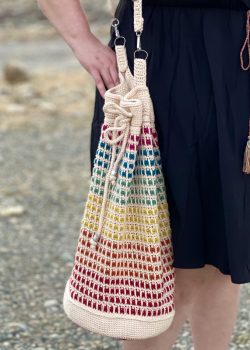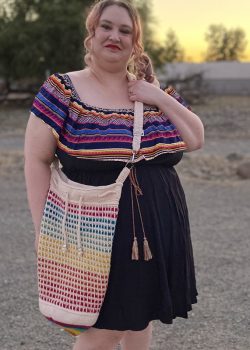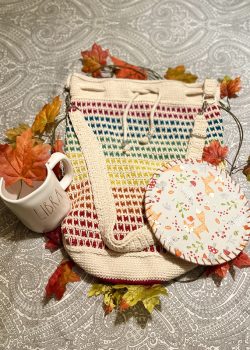 Hobbii Rainbow Cotton 8/6, sport weight
Yardage: 675 yds (MC) and 550 yds (CC)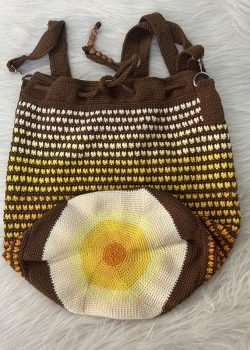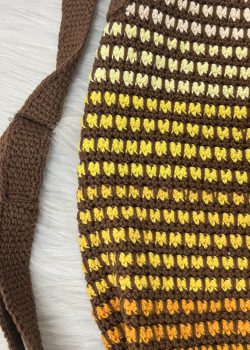 Magic Needles Kotton 4 ply, sport weight
Yardage: 800 yds (MC) and 600 yds (CC)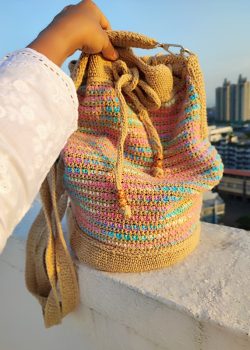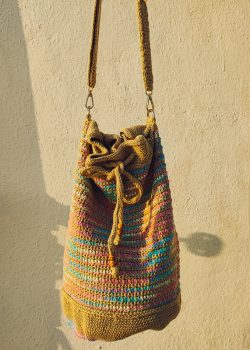 Magic Needles Kotton 4 ply, sport weight
Yardage: 710 yds (MC) and 350 yds (CC)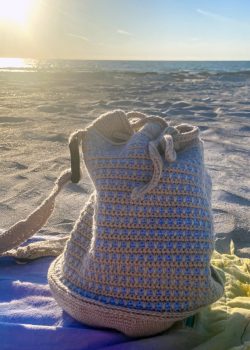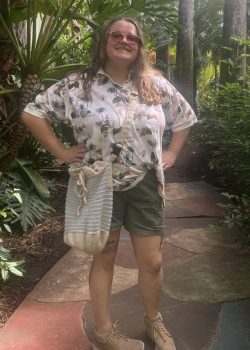 Hobby Lobby I Love This Yarn!, sport weight
Yardage: 360 yds (MC) and 156 yds (CC)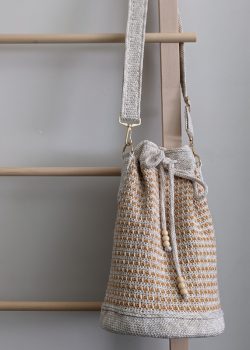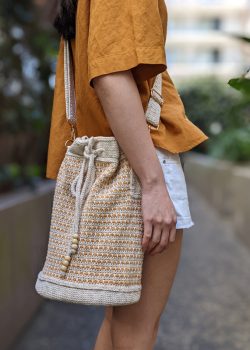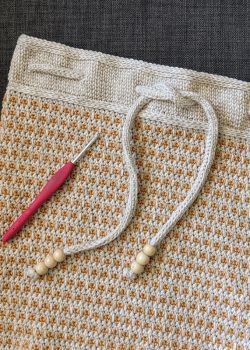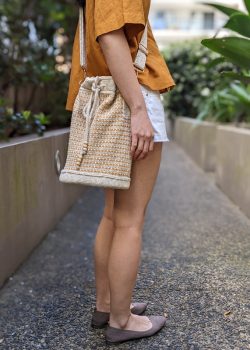 Scheepjes Catona & Catona Denim, sport weight
Yardage: 730 yds (MC) and 218 yds (CC)

I'd LOVE to see your work, so be sure to shout out to me @CrochetHighway on Instagram and use the #CrochetHighway hashtag for a chance to be featured on my stories!
Thirsty for more? Why not check out some of my recently published crochet patterns and stitch tutorials: