The boho-chic crochet bandana
Disclaimer: Some links on this page are affiliate links. This means that, if you click through the links and make a purchase, I may earn a small commission at no additional cost to you.
An easy crochet bandana pattern with surprising results
A sister pattern to the upcoming Cosmopolitan Tank, the Cosmopolitan Kerchief is a textured bandana, using the signature alpine stitch and faux-knit bands to create an eye-catching design. The unique and surprising construction will keep your interest piqued while creating a unique boho-chic piece to wear this summer.
This crochet kerchief is worked as a triangle from the bottom up, with both ties sturdily added to the base of the piece. The pattern comes in two sizes (child and adult), so you can easily make this for yourself or loved ones. With summer weather in full swing, this quick and beautiful project will make for the perfect handmade gift!
Finished measurements: The Cosmopolitan Kerchief measures 9.75″ by 6.25″ in the smaller size, and 17.75″ by 9″ in the larger size.
Yardage: You'll need approx. 90 (155) m or 100 (170) yds of any CYC 3 DK or CYC 2 sport weight yarn you can meet gauge with. My sample uses Katia Tencel Cotton.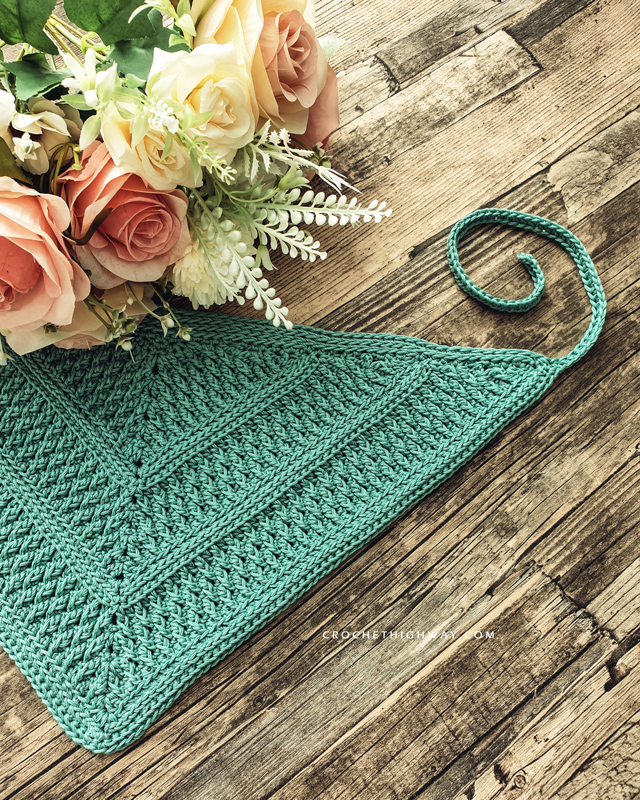 Easy to follow PDF pattern
Step-by-step instructions & tutorial photos
Row checker to track your progress
100-170 yds of any CYC 2 sport or CYC 3 DK weight yarn
Scissors, darning needle, locking stitch markers
Pattern comes in 1 child and 1 adult size
Please contact me at thecrochethighway [at] gmail.com for pattern related questions.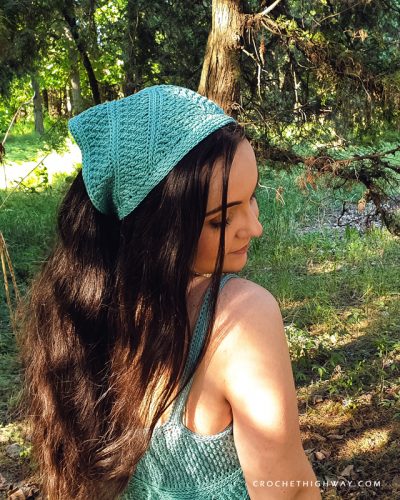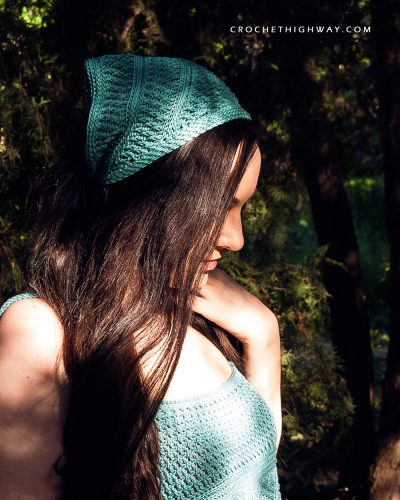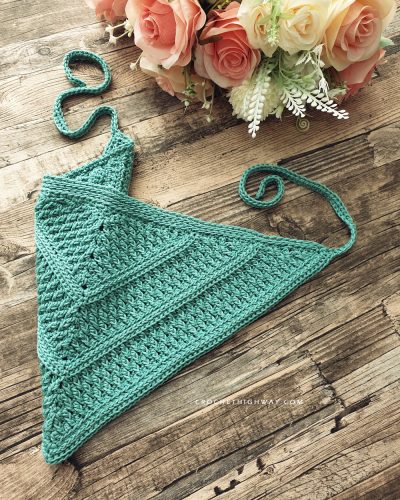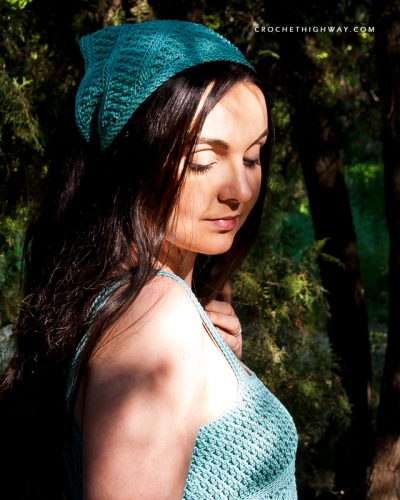 Go for a single, solid color, use that gorgeous hand-dyed yarn you've been saving for something special, or let your creativity run wild with blocks of color!
Shop the Cosmopolitan Crochet Collection
The Cosmopolitan Kerchief is part of the Cosmopolitan Crochet Collection, a series of crochet patterns for garments & accessories specifically designed to go perfectly together. Check out the patterns below!
Check out my testers' versions
This pattern was put to the test with the help of an amazing team of testers before being released to the public. My patterns would not be what they are today if not for their eye for detail ❤️
Check out the beanies made by my talented testers for some inspiration on yarn and color choices for this project!
Want to test my future patterns? Check out how you can become a pattern tester for CrochetHighway!

I'd LOVE to see your work, so be sure to shout out to me @CrochetHighway on Instagram and use the #CrochetHighway hashtag for a chance to be featured on my stories!
Thirsty for more? Why not check out some of my recently published crochet patterns and stitch tutorials: