Wrap yourself in texture!
Disclaimer: Some links on this page are affiliate links. This means that, if you click through the links and make a purchase, I will earn a small commission at no additional cost to you.
A crochet wrap like no other
Wrap yourself in texture with this eye-catching, textured crochet shawl!
The dense nature of the alpine stitch creates a thicker fabric that will keep you warm, while the faux-knit bands allow the shawl to fold perfectly into shape every time you wear it.
With a wingspan of almost 70″, you can wear it around your neck like a scarf, or resting around your shoulders to really show off all the details!
This crochet triangle shawl is worked in turned rows, starting at the center and adding increases at the corners to further expand the shape. The fun and relaxing alpine stitch pattern is interlocked with wide, faux-knit bands made up of a combination of stitches that will keep your interest piqued. You'll even learn a new stitch or two with the help of my photo-tutorials! For best results, this shawl needs to be blocked.
Finished measurements: Height at center: 79 cm (31″); Wingspan: 175 cm (69″).
Yardage: 1,375 m (1,500 yds) of any CYC 2 sport or CYC 3 DK weight yarn. Sample shown uses Stonewashed by Scheepjes (sport weight), but you can substitute any sport or DK weight yarn you can meet gauge with.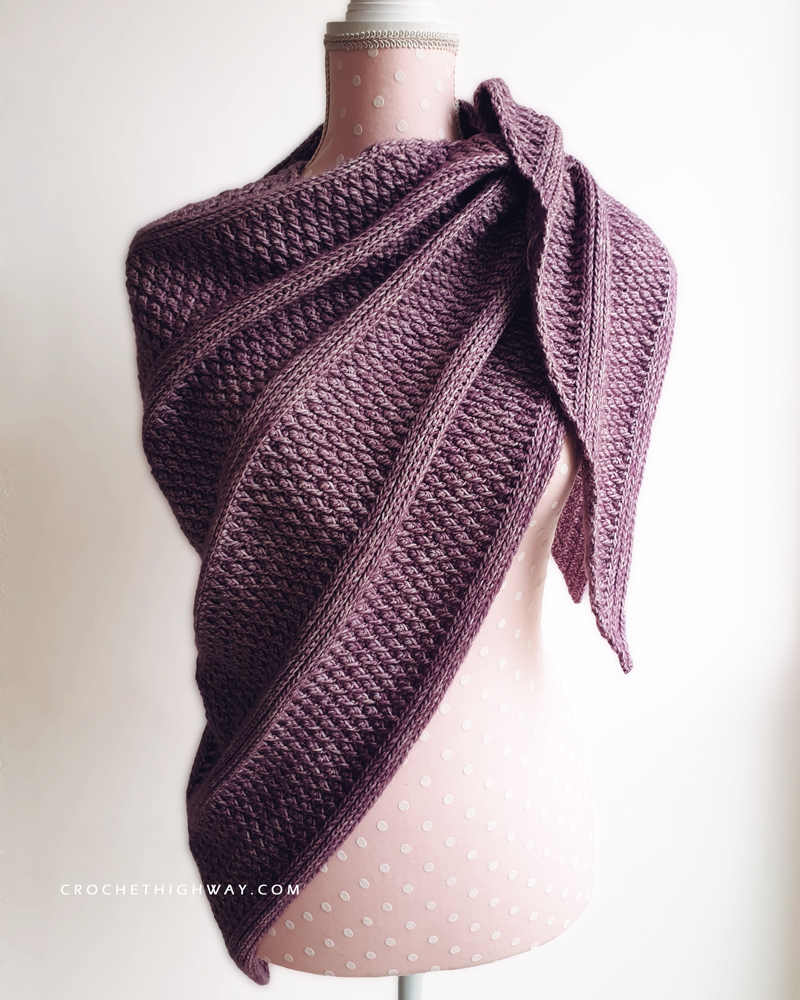 Easy to follow PDF pattern
Step-by-step instructions & tutorial photos
Row checker to track your progress
1500 yds of any CYC 2 sport or CYC 3 DK weight yarn
Scissors, darning needle, blocking mats and pins
You can skip the last pattern repeat for a smaller shawl
Please contact me at thecrochethighway [at] gmail.com for pattern related questions.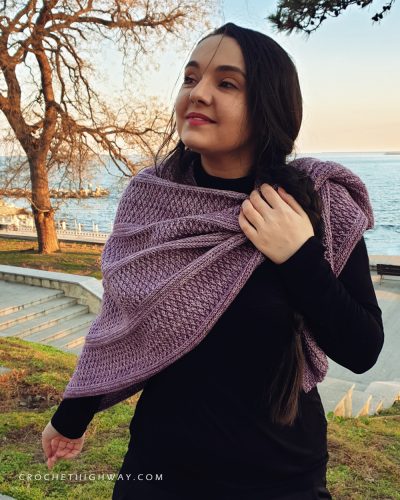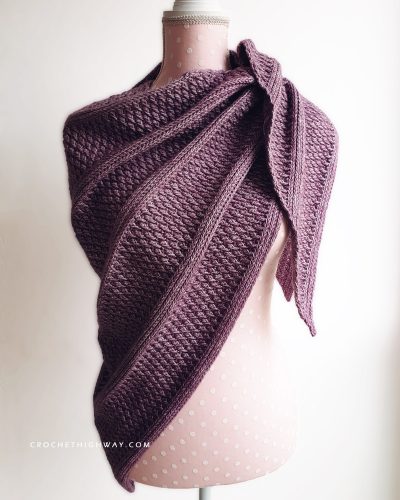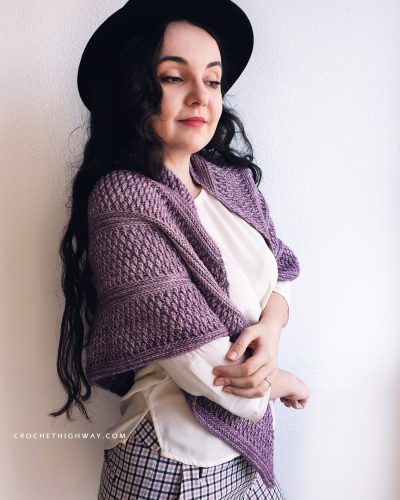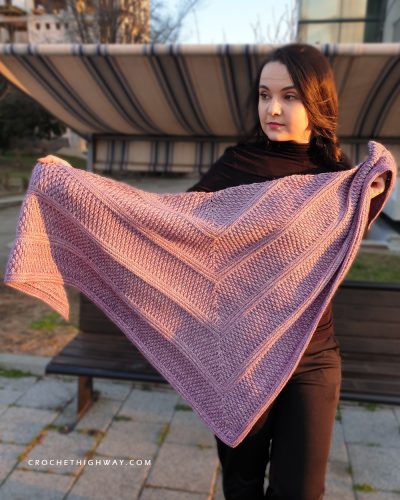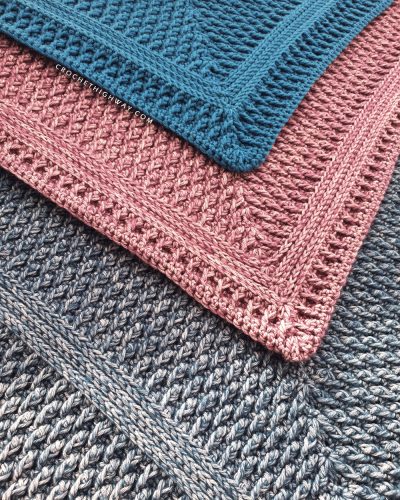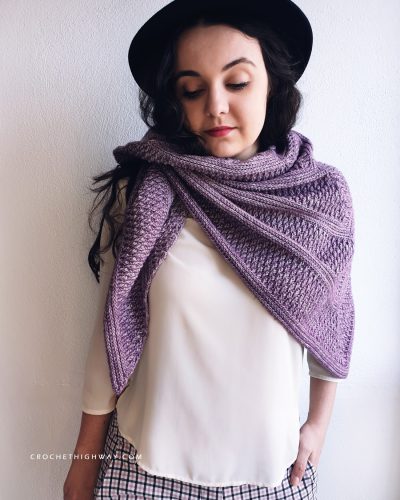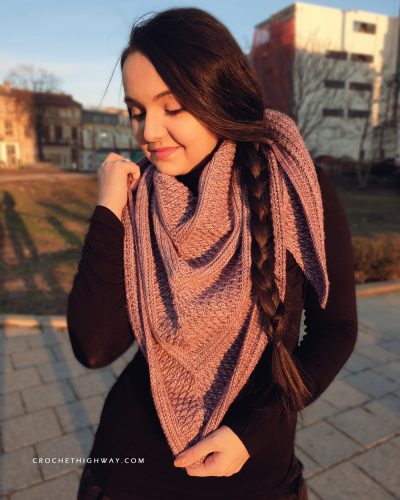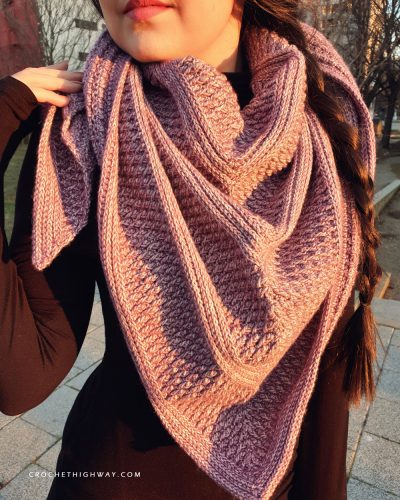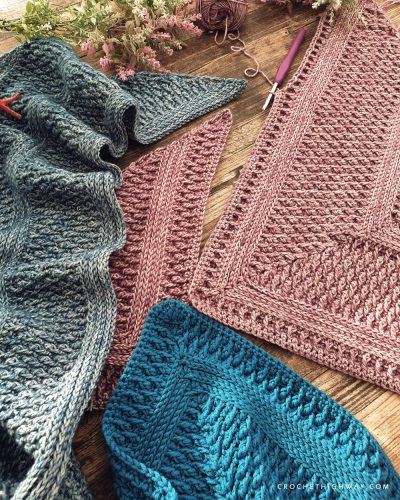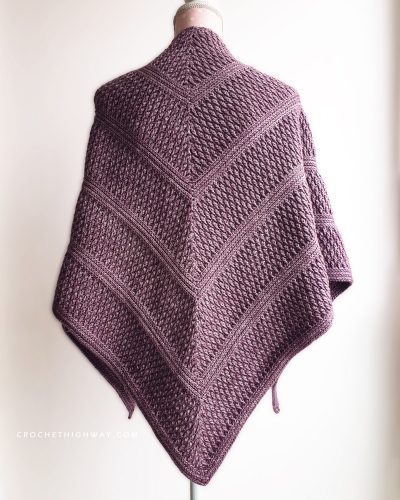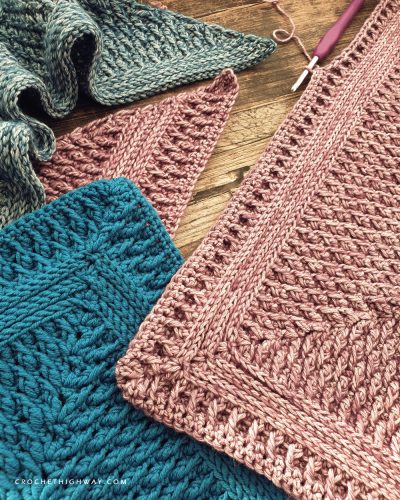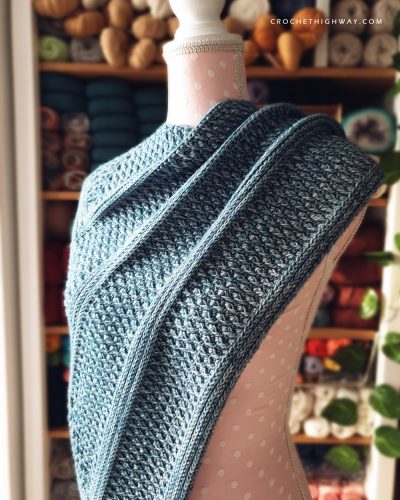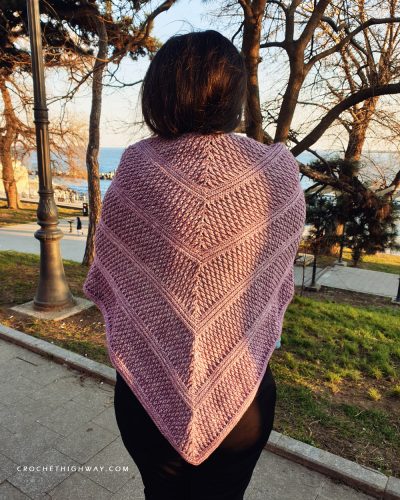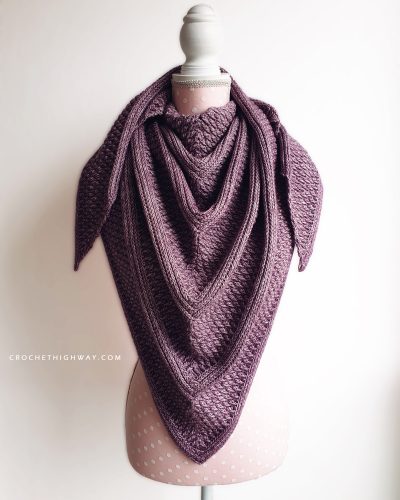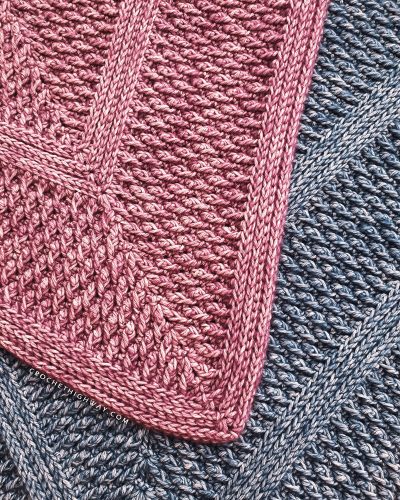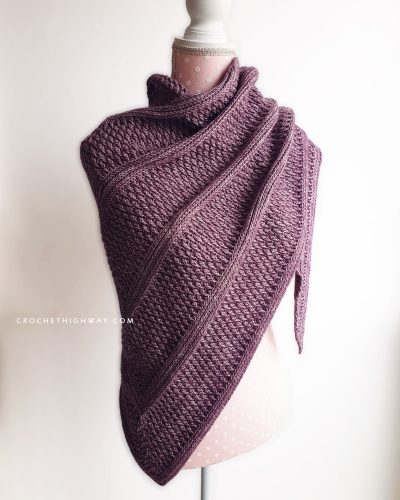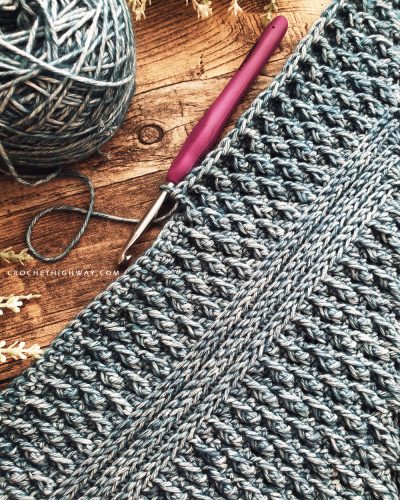 Make it in a solid color, mix it up with different colored sections or dive into that beautiful hand-dyed yarn you've been saving for something special—this crochet shawl will look gorgeous in a variety of styles.
Shop the Cosmopolitan Crochet Collection
The Cosmopolitan Shawl is part of the Cosmopolitan Crochet Collection, a series of crochet patterns for garments & accessories specifically designed to go perfectly together. Check out the cowl and fingerless gloves which are already released, and come back later for the earwarmer, batwing sweater, legwarmers & boot cuffs, and shawl!
Check out my testers' versions
This pattern was put to the test with the help of an amazing team of testers before being released to the public. My patterns would not be what they are today if not for their eye for detail ❤️
Check out the beanies made by my talented testers for some inspiration on yarn and color choices for this project!
Want to test my future patterns? Check out how you can become a pattern tester for CrochetHighway!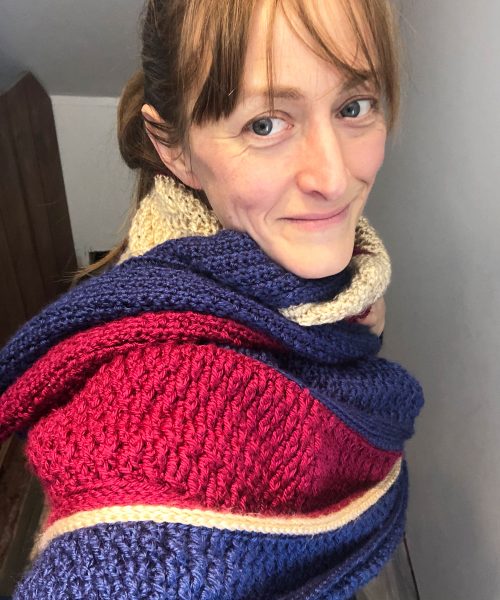 Loops & Threads Soft & Shiny and Bernat Softee, DK weight
100% acrylic
Yardage: 1700 yds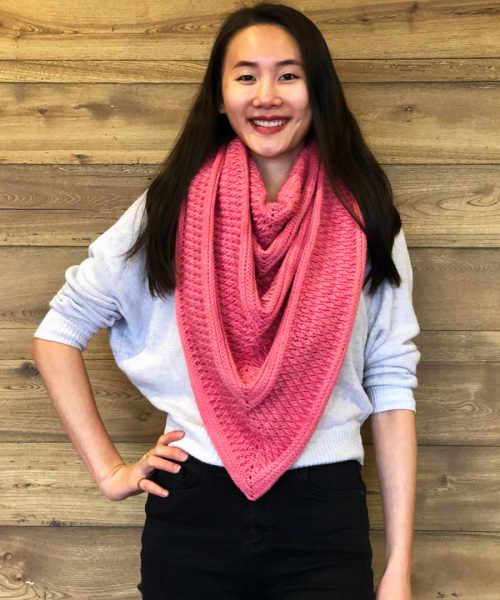 Yarn Matter Classic Sport (hand dyed yarn, sport weight)
100% fine organic merino wool
Yardage: 1555 yds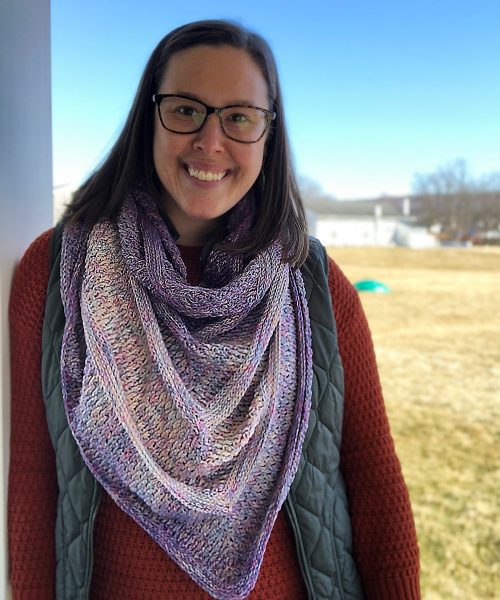 Red Heart It's A Wrap Sprinkles, sport weight
50% acrylic, 50% cotton
Yardage: 1246 yds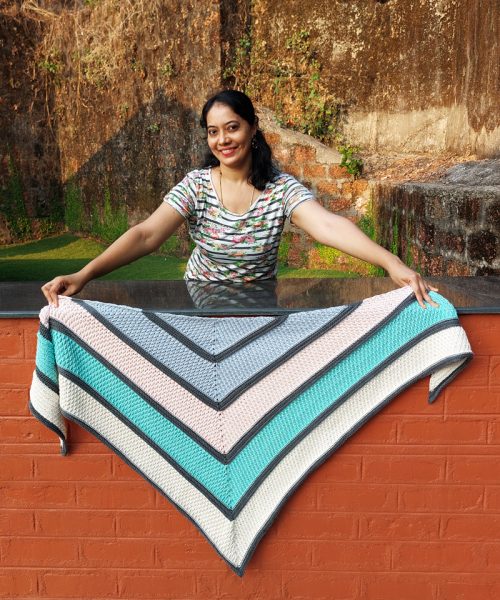 Vardhaman Cotone Yarn, DK weight
51% acrylic, 49% cotton
Yardage: 1482 yds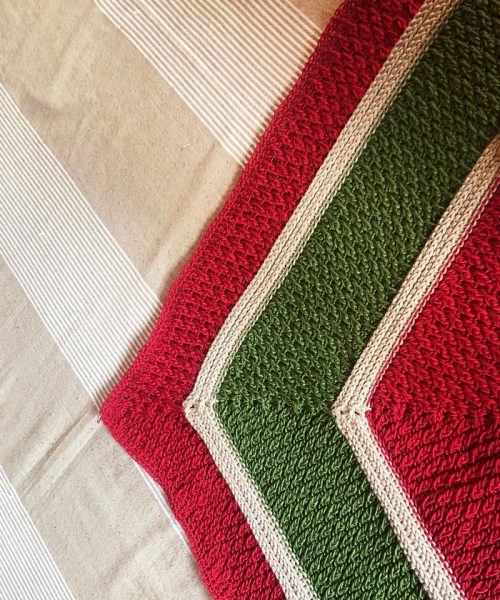 Crochetnow Bamboo and Vardhman Cotone, DK weight
80% bamboo, 20% cotton, and 59% acrylic and 49% cotton
Yardage: 1585 yds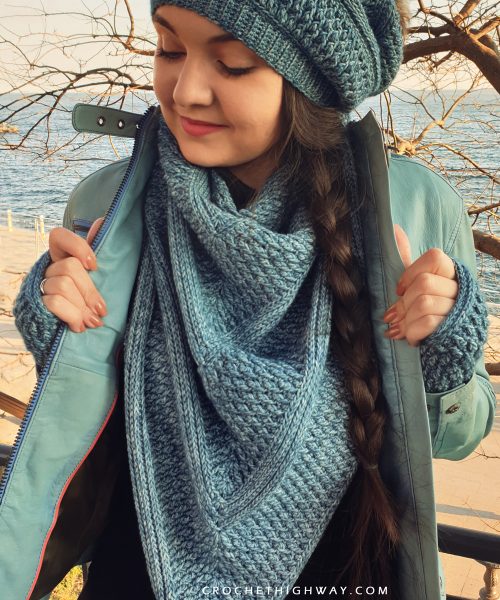 Scheepjes Stone Washed, Sport weight
78% cotton, 22% acrylic
Yardage: 1563 yds

I'd LOVE to see your work, so be sure to shout out to me @CrochetHighway on Instagram and use the #CrochetHighway hashtag for a chance to be featured on my stories!
Thirsty for more? Why not check out some of my recently published crochet patterns and stitch tutorials: