The Plaid and Simple Sweater
Combine your favorite colors in a classic plaid design
Disclaimer: Some links on this page are affiliate links. This means that, if you click through the links and make a purchase, I may earn a small commission at no additional cost to you.
Step-by-step instructions and tutorial photos.
Color change charts and yoke schematics for each size individually.
Row tracker to help you keep track of your sleeve decreases.
♈︎ Pattern written for 10 sizes
♈︎ Fits busts from 29.5″ to 65.5″
🖤 Any DK weight yarn in 3 contrasting colors in the amounts shown below.
🖤 Your 4 mm and 3.5 mm hooks; I like to use my Clover Amours.
🖤 Tape measure, scissors, darning needle, 4 locking and numbered stitch markers, steamer for blocking (for synthetic fibers).
🖤 For pattern related questions, please join my Facebook support group or contact me at thecrochethighway [at] gmail.com.
Join my Facebook support Group
I proud myself with writing ultra-detailed patterns for you, so that your crocheting experience is as smooth and seamless as possible. But whenever you have a pattern related question, my Facebook support group is the place to ask. There you can also share your WIPs and brag about your FOs with the community!
The Plaid and Simple Sweater is the perfect pattern to combine your favorite colors in a classic plaid design.
This sweater is not the quickest of projects, but rather the colorwork will force you to slow down and work each row mindfully, stitch by stitch. Working with three colors at a time, this design invites you to practice your color changes in a systemic pattern that's easy to memorize.
The sweater is worked seamlessly from the top down, so you can easily try it on as you go and make any necessary adjustments. It features a modified drop shoulder construction and shaping at the underarm and sleeves in order to minimize the usual bulkiness that comes with the traditional drop shoulder. This way, all sizes will have the same fit at the shoulders, upper- and underarms. For plus sizes, this means that the shoulder will not drop to your elbow!
Modified drop shoulder for a better fit!
The colorwork of the plaid motif is based on charts, with detailed written instructions on where to start and end the rows. Each size comes with its own graph for the yoke (the upper portion of the sweater, right before the split for sleeves), so you can easily orient yourself at any point during your work.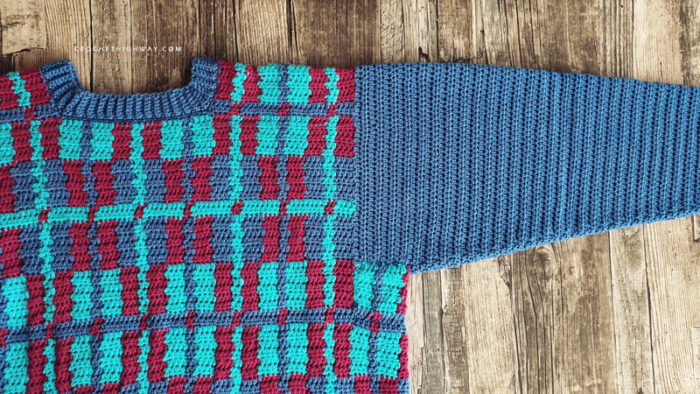 Here's a quick video tutorial on how I change colors while keeping all three yarns from creating a tangled mess:
I used Schachenmayr Soft & Easy Fine for my sample (100% acrylic, 10 WPI) which was kindly gifted to me a while ago in colors Orchid, Ocean, and Turquoise. I ran out of the Ocean color (which I used for the first sleeve), so I decided to crochet the second sleeve using one of the other blue colors, Turquoise. The estimated yardage reflects this, and I also provided yardage for sleeves separately. This way, you can decide which color or colors you want to make your sleeves in and plan your yarn purchase accordingly. You can see how the sweater looks with both identical, and differently colored sleeves by browsing the tester photo gallery below.
I'm wearing the sweater in size 3, showing 17 cm (6.5″) of positive ease around the bust. Adding ribbing at the neckline, hem and cuffs is one of my favorite ways to finish a sweater and it was the perfect way to go for this design.
All my garment patterns are #sizeinclusive up to at least a 60" bust circumference.
Plaid and Simple Sweater bust sizing:
XS – 36"
S – 40"
M – 44"
L – 48"
XL – 52"
2X – 56"
3X – 60"
4X – 64"
5X – 68"
This sweater is designed to be worn with 6-17 cm (2.5-6.5″) of positive ease around the bust. When choosing a size, find the bust measurement in this list that is closest to 6-17 cm (2.5-6.5″) larger than your actual bust measurement depending on your desired amount of positive ease and make this size.
Tried & tested substitution yarns
My testers used a variety of yarns for their sweaters, in a truly amazing variety of color combinations. Here's a list of yarns recommended by them. The list is sorted alphabetically. If you're looking for inspiration or a quick yarn substitution idea, this is the place to start!
Check out my testers' versions
My patterns would not be so smooth without the input of my team of talented testers. Scroll alllll the way to the end of this photo gallery for some inspiration on various colors. Swipe left & right for more photos of your favorite versions!
Want to test my future patterns? Check out how you can become a pattern tester for CrochetHighway!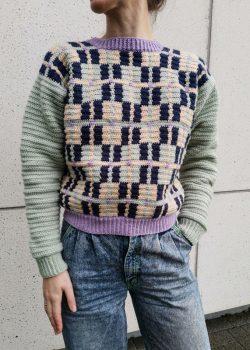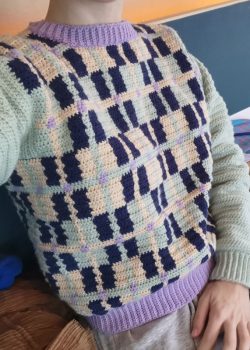 Size 3, total yardage: 2163 yds of Zeeman Promo
Yarn A: 576 yds
Yarn B: 967 yds
Yarn C: 620 yds
Mods: deepened yoke and neckline by 2 rows each, lengthened sleeves by 4″, lengthened hem and cuffs, tightened hem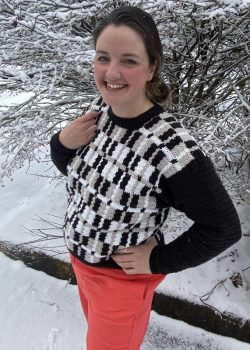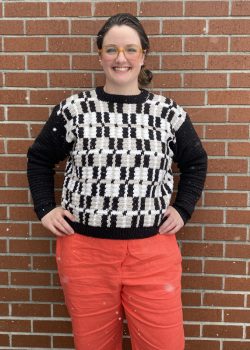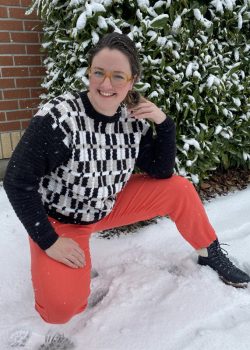 Size 4, total yardage: 2270 yds of Lion Brand Feels Like Heaven
Yarn A: 1320 yds
Yarn B: 475 yds
Yarn C: 475 yds
Mods: deepened yoke by 4 rows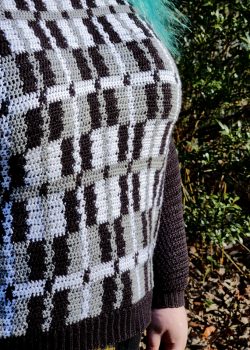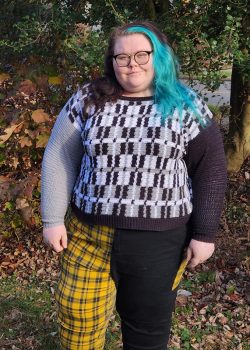 Size 9, total yardage: 2519 yds of Berroco Modern Cotton DK
Yarn A: 1165 yds
Yarn B: 483 yds
Yarn C: 871 yds
Mods: worked no more decreases in the sleeve after round 33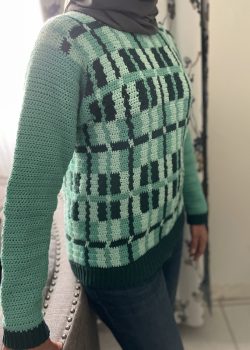 Size 2, total yardage: 1800.21 yds of Alize Cotton Gold
Yarn A: 389 yds
Yarn B: 469 yds
Yarn C: 942.21 yds
Mods: lengthened body and sleeves by 2″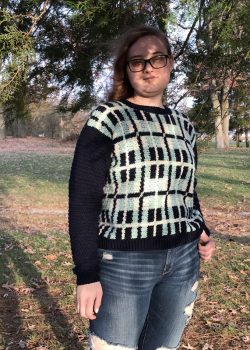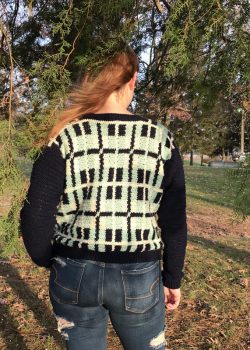 Size 3, total yardage: 1971 yds of Knitpicks Stroll (white), Vidalana Linen Jewel (mint green) Stylecraft Life 4 ply (navy)
Yarn A: 351 yds
Yarn B: 1220 yds
Yarn C: 400 yds
Mods: lengthened sleeves by 3″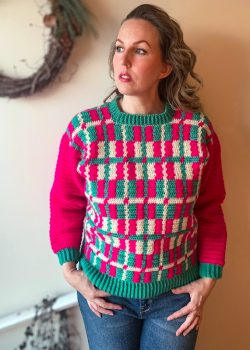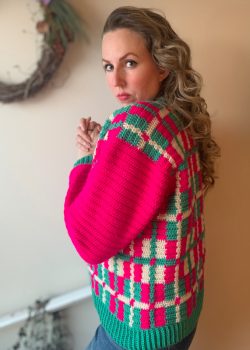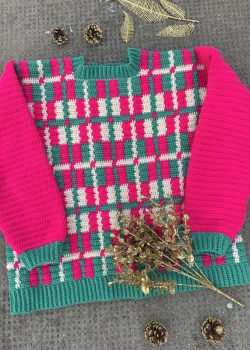 Size 3, total yardage: 1840 yds of Universal Yarn Uptown Worsted
Yarn A: 1090 yds
Yarn B: 190 yds
Yarn C: 560 yds
Mods: tightened the cuffs
Size 1, total yardage: 1840 yds of Paintbox Yarns Simply DK and Deramores Essential DK
Yarn A: 320 yds
Yarn B: 720 yds
Yarn C: 800 yds
Mods: shortened body for a cropped fit, tightened the neckline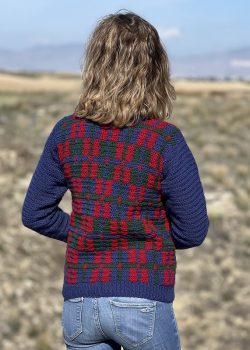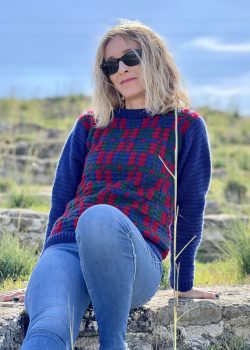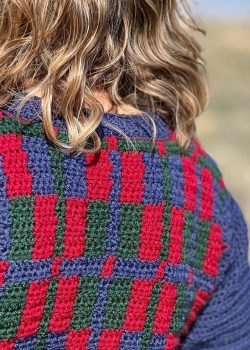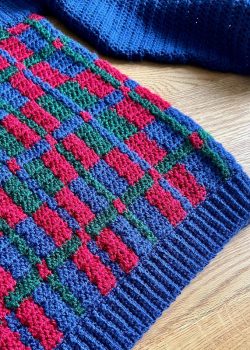 Size 1, total yardage: 1525 yds of Scheepjes Colour Crafter
Yarn A: 328 yds
Yarn B: 262 yds
Yarn C: 935 yds
Mods: lengthened body and sleeves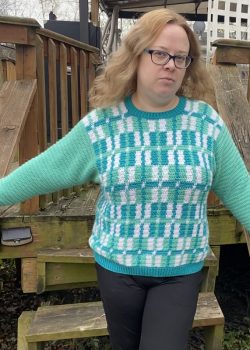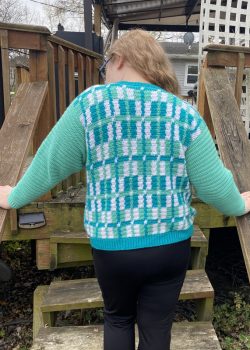 Size 5, total yardage: 2000 yds of Knit Picks Brava Sport
Yarn A: 454 yds
Yarn B: 514 yds
Yarn C: 1032 yds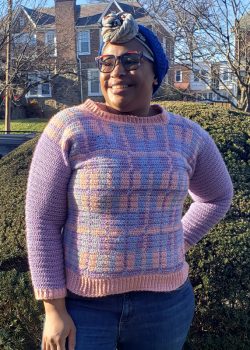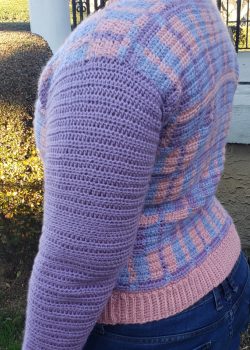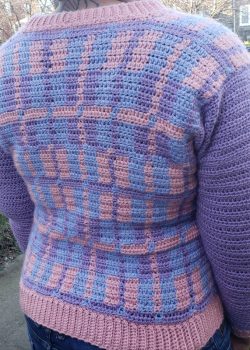 Size 2, total yardage: 1735 yds of Bernat Softee Baby
Yarn A: 330 yds
Yarn B: 905 yds
Yarn C: 500 yds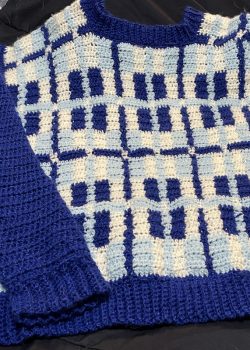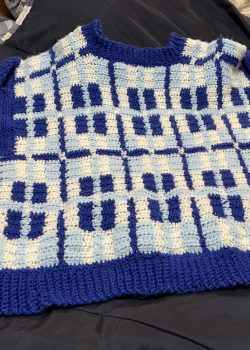 Size 5, total yardage: 1660 yds of Herrschners 2-Ply Afghan
Yarn A: 550 yds
Yarn B: 670 yds
Yarn C: 440 yds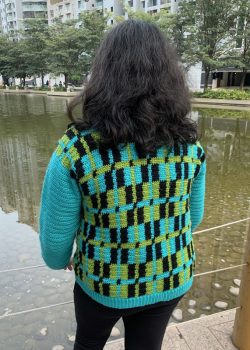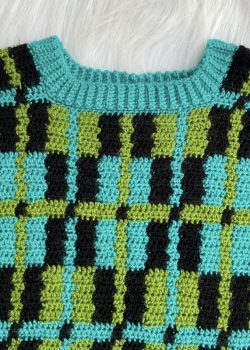 Size 3, total yardage: 1827 yds of Hobby Store DK Special Yarn
Yarn A: 406 yds
Yarn B: 1038 yds
Yarn C: 383 yds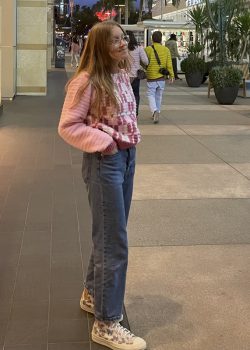 Size 2, total yardage: 2200 yds of a mix of acrylic yarn
Yarn A: 700 yds
Yarn B: 600 yds
Yarn C: 900 yds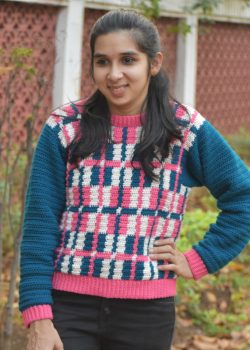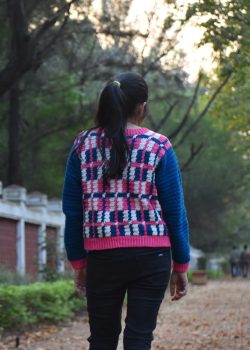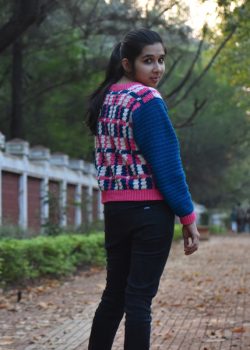 Size 1, total yardage: 1760 yds of Nako Saten
Yarn A: 275 yds
Yarn B: 771 yds
Yarn C: 714 yds
Mods: shortened body by 3″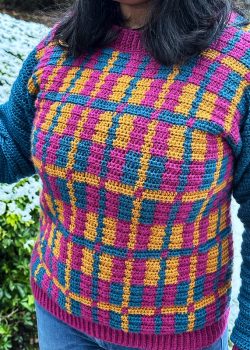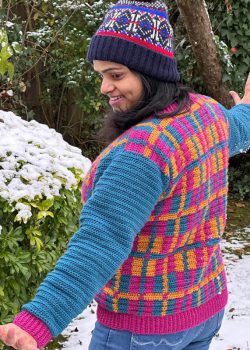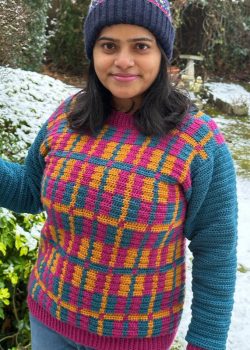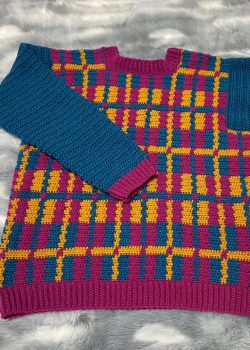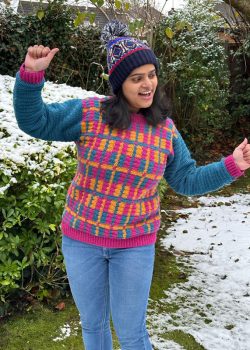 Size 2, total yardage: 1589 yds of Stylecraft Special DK
Yarn A: 452 yds
Yarn B: 809 yds
Yarn C: 328 yds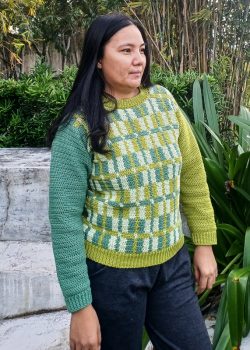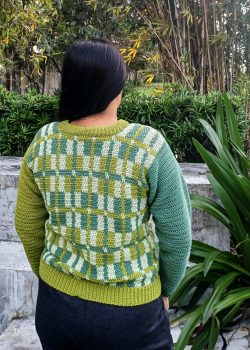 Size 2, total yardage: 1820 yds of Ashley's Crochet 6-ply Combed Cotton
Yarn A: 400 yds
Yarn B: 750 yds
Yarn C: 670 yds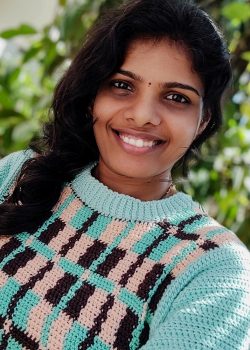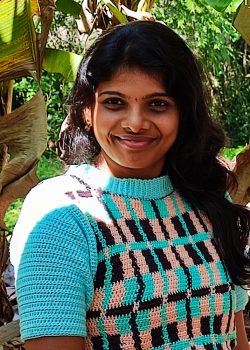 Size 1, total yardage: 2060 yds of Magic Needles Kotton
Yarn A: 430 yds
Yarn B: 720 yds
Yarn C: 910 yds
Mods: shortened sleeves, deepened yoke by 8 rows

I'd LOVE to see your work, so be sure to shout out to me @CrochetHighway on Instagram and use the #CrochetHighway hashtag for a chance to be featured on my stories!
Thirsty for more? Why not check out some of my recently published crochet patterns and stitch tutorials: