A quick & easy textured slouch.
Disclaimer: Some links on this page are affiliate links. This means that, if you click through the links and make a purchase, I may earn a small commission at no additional cost to you.
The perfect combo of texture & slouch
This chic beanie pattern is suitable for any season, but you'll love it in particular as a transitional piece – during spring and autumn, when the weather is just hot enough to not need a super warm hat, but cold enough to be chilly without one. The folds drape beautifully at the back of the head, allowing for the beautiful alpine stitch pattern to peek through.
The Cosmopolitan Beanie pattern has been completely rewritten and re-released in February 2022. The new version features a slouchier hat, a sturdier rim, and a better organized and easier to follow pattern.
The printable PDF pattern includes a bunch of tips & tricks to make this beanie your perfect accessory. Like all patterns in the Cosmopolitan Crochet Collection, the beanie comes graded for 7 different sizes (Toddler, Child, Tween, Teen/ Adult Small, Adult Medium, Adult Large, Adult XL), making this hat the perfect gift idea or make for the market season.
The pattern comes graded for 7 different sizes (Toddler, Child, Tween, Teen/ Adult Small, Adult Medium, Adult Large, Adult XL).
Sizing is based on head circumference.
1 – 17.5"
2 – 18.75"
3 – 21"
4 – 22"
5 – 23"
6 – 24"
7 – 25"
To measure the head circumference, place a tape measure across the forehead and the back of the neck, and measure around the full circumference of the head. Keep the tape snug for accurate results.
You'll need approx. 200 (225, 285, 340) (370, 410, 470) yds of any sport / DK weight yarn you can meet gauge with.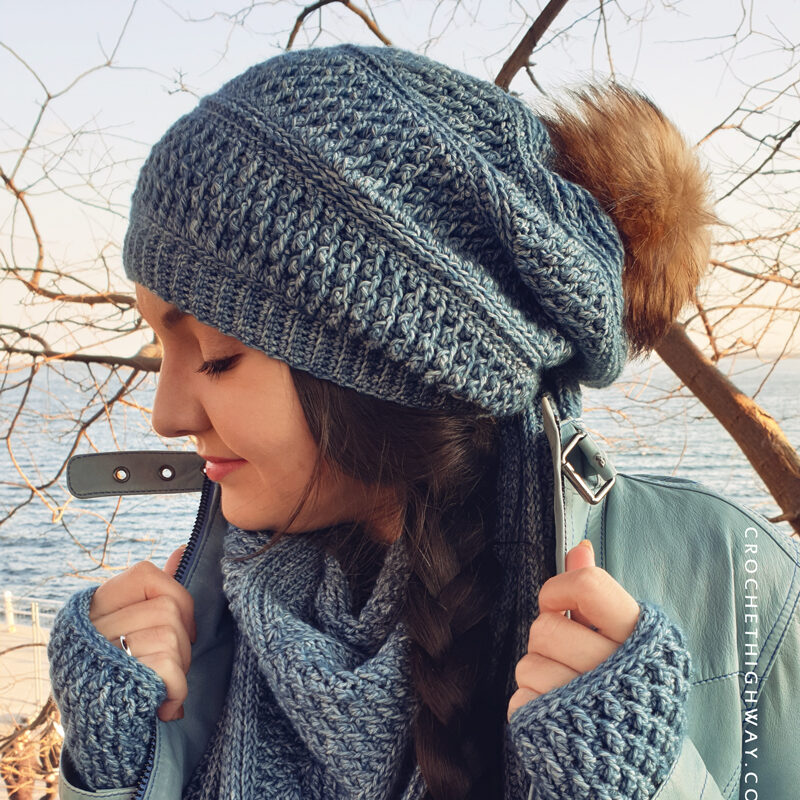 Beginner-friendly PDF pattern
Step-by-step instructions & tutorial photos
Round checker to track your progress
CYC 2 sport or CYC 3 DK weight yarn (see yardages below)
Tape measure, scissors, darning needle
Written for 7 sizes from toddler to adult XL
Easily customizable to fit your specific needs
Please contact me at thecrochethighway [at] gmail.com for pattern related questions.
The Cosmopolitan Beanie is your perfect accessory for fall and spring. The repetitive stitch pattern is relaxing and therapeutic, and you'll be amazed by how easily you can create such a highly textured fabric. This project will not stay in your WIP stash for too long! The horizontal bands that intersect the alpine stitch sections allow the beanie to fold naturally when worn, creating a unique, asymmetric and eye-catching design.
The pattern also walks you through creating the perfect closure at the top, so the beanie looks amazing from all angles!
Make it in a solid color, mix it up with different colored sections or even style it with a pom – the possibilities are endless!
Check out the #CosmopolitanBeanie hashtag to see this design worked up in different yarns, or visit the #CosmopolitanCrochetCollection hashtag to see more pieces in this collection.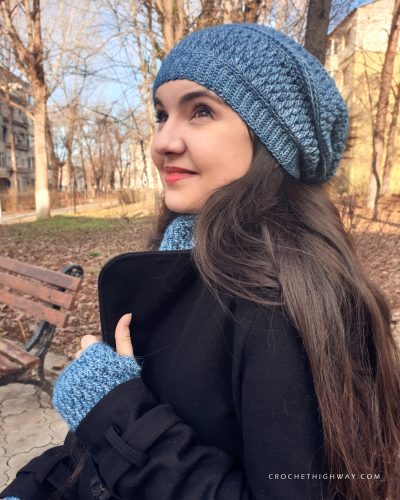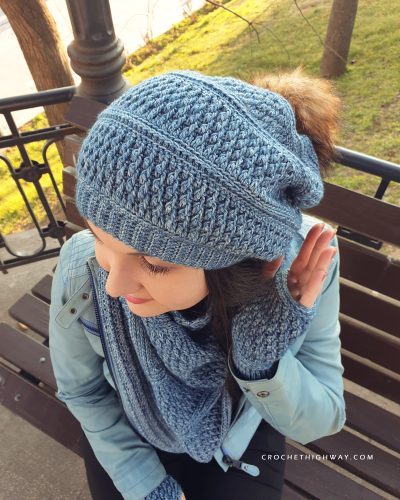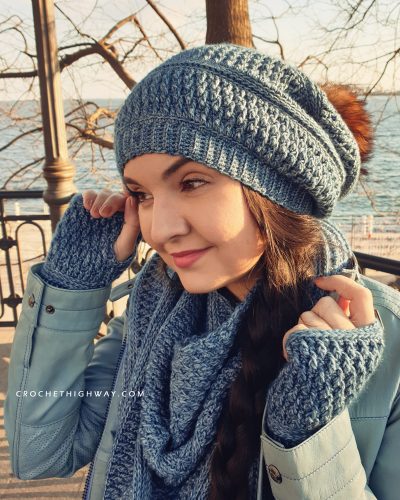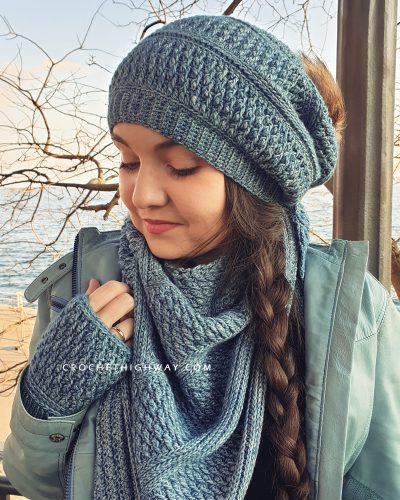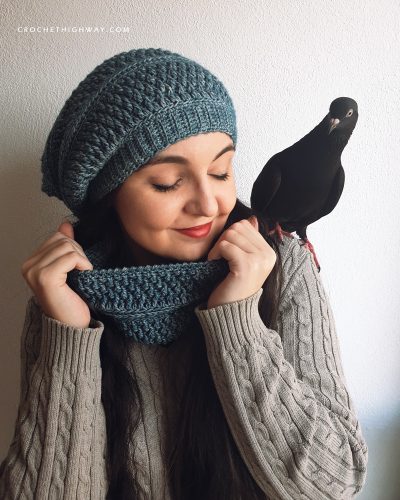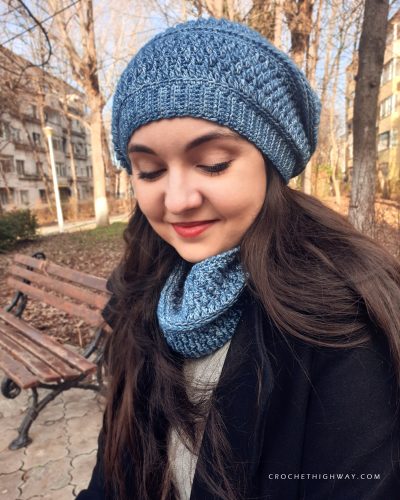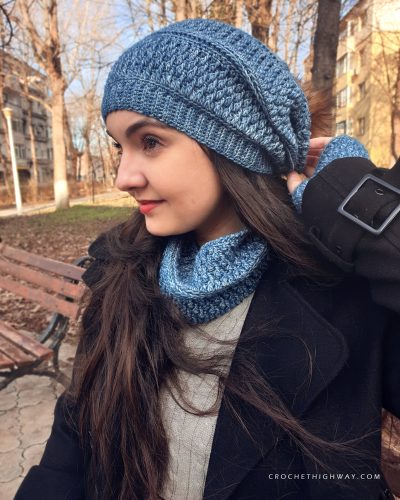 Shop the Cosmopolitan Crochet Collection
The Cosmopolitan Beanie is the first pattern to be published in the Cosmopolitan Crochet Collection, a series of crochet patterns for garments & accessories specifically designed to go perfectly together. Check out the batwing sweater, shawl, fingerless gloves, cowl,  earwarmer, and legwarmers & boot cuffs!
Check out my testers' versions
This pattern was put to the test with the help of an amazing team of testers before being released to the public. My patterns would not be what they are today if not for their eye for detail ❤️
Check out the beanies made by my talented testers for some inspiration on yarn and color choices for this project!
Want to test my future patterns? Check out how you can become a pattern tester for CrochetHighway!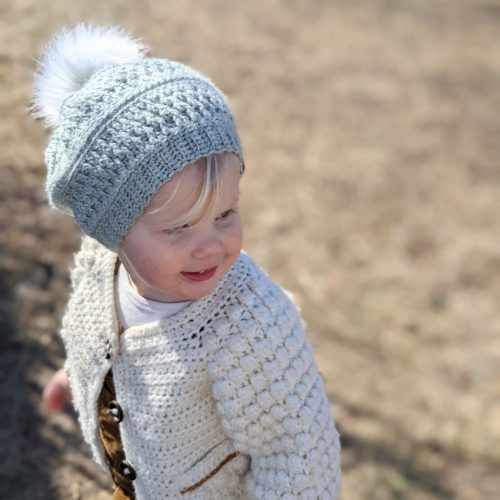 Yarn Bee High Lights, DK weight
79% acrylic, 20% polyamide, 1% metallic
Size 4 – Teen / Adult Small
Wecrochet/KnitPicks Wool of the Andes Sport
100% Peruvian highland wool
Size 3 – Tween / Adult XS
YarnArt Milano, DK weight
8% alpaca, 20% wool, 8% viscose, 64% acrylic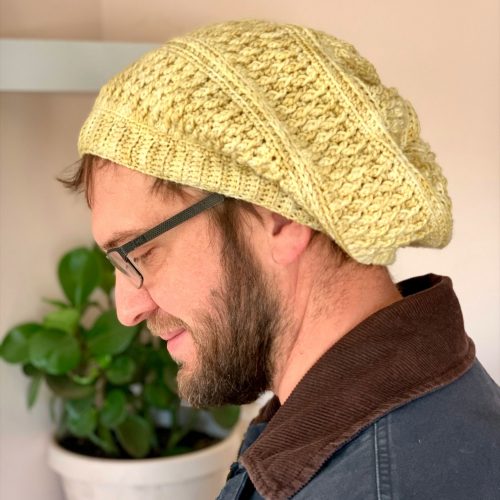 Yarn Over Floyd, MCN DK blend, dyed in Yarrow, DK weight
80% merino, 10% cashmere, 10% nylon
Scheepjes Stone Washed, Sport weight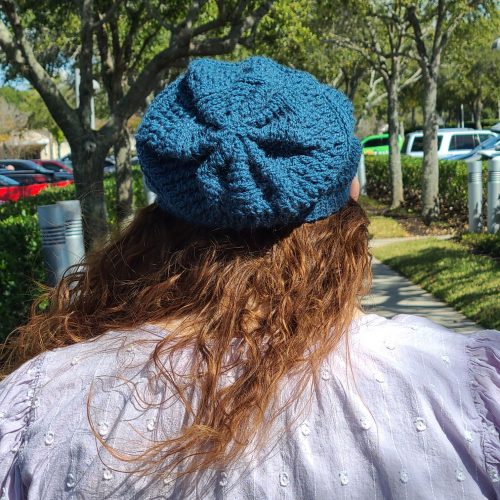 Size 4 – Teen / Adult Small
Yarn Bee 44th Street, DK weight
70% acrylic, 30% polyamide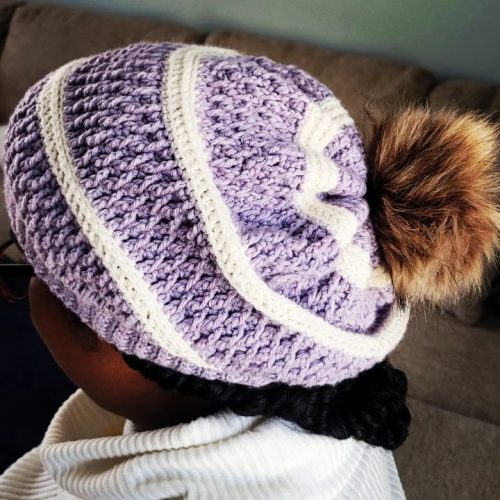 WeCrochet, Swish DK Weight and Mirasol Sisa
Swish DK - 100% fine superwash wool, Mirasol Sisa - 60% wool, 40% baby alpaca
Size 4 – Teen / Adult Small
Spotlight Marvel 8 ply, DK weight
Lion Brand Comfy Cotton Blend, DK weight
50% cotton, 50% polyester
Testers of the previous version
Take a look at these beautiful beanies my testers made back in 2021! These beanies are made following the previous version of the pattern, before the re-release, but I still love each and every one of them!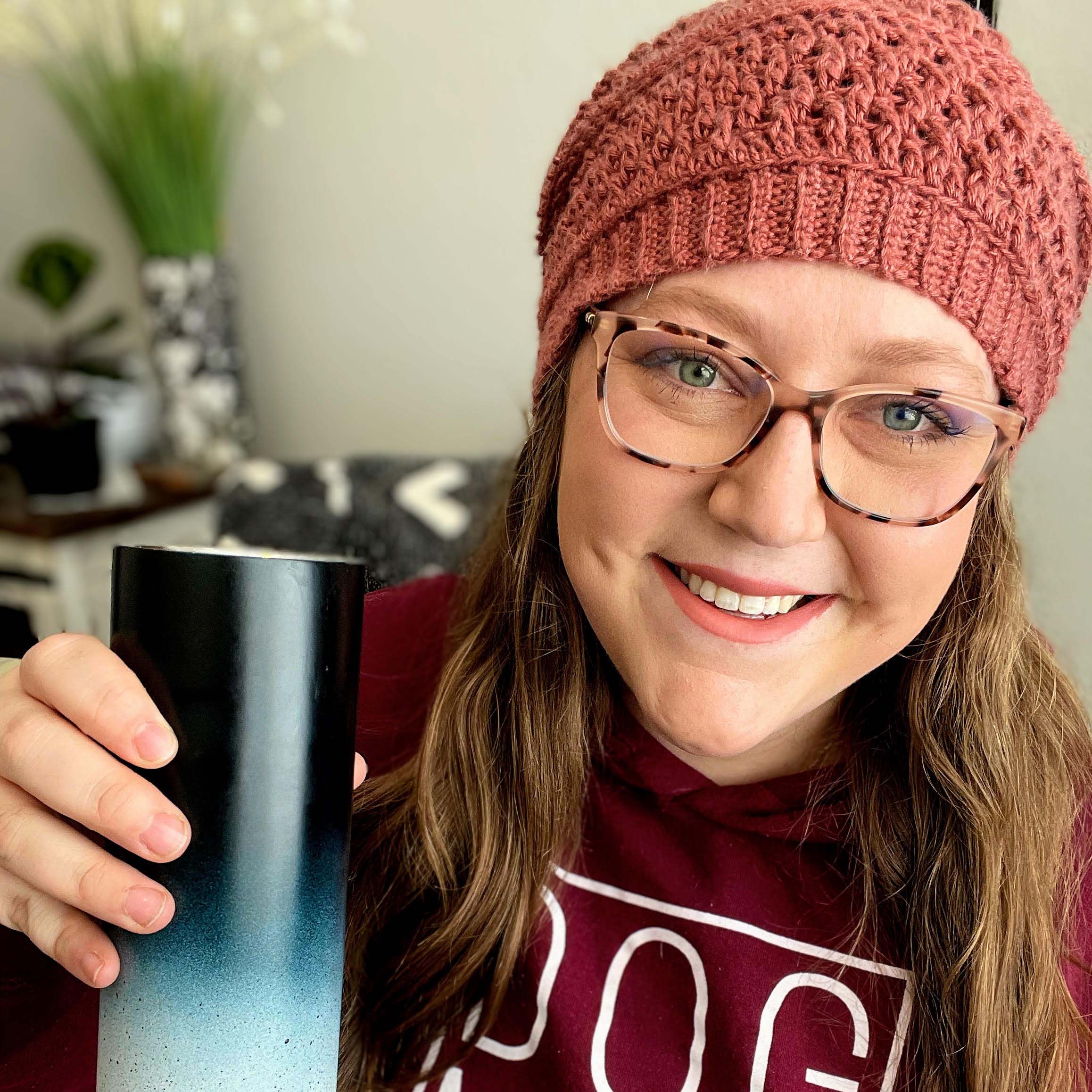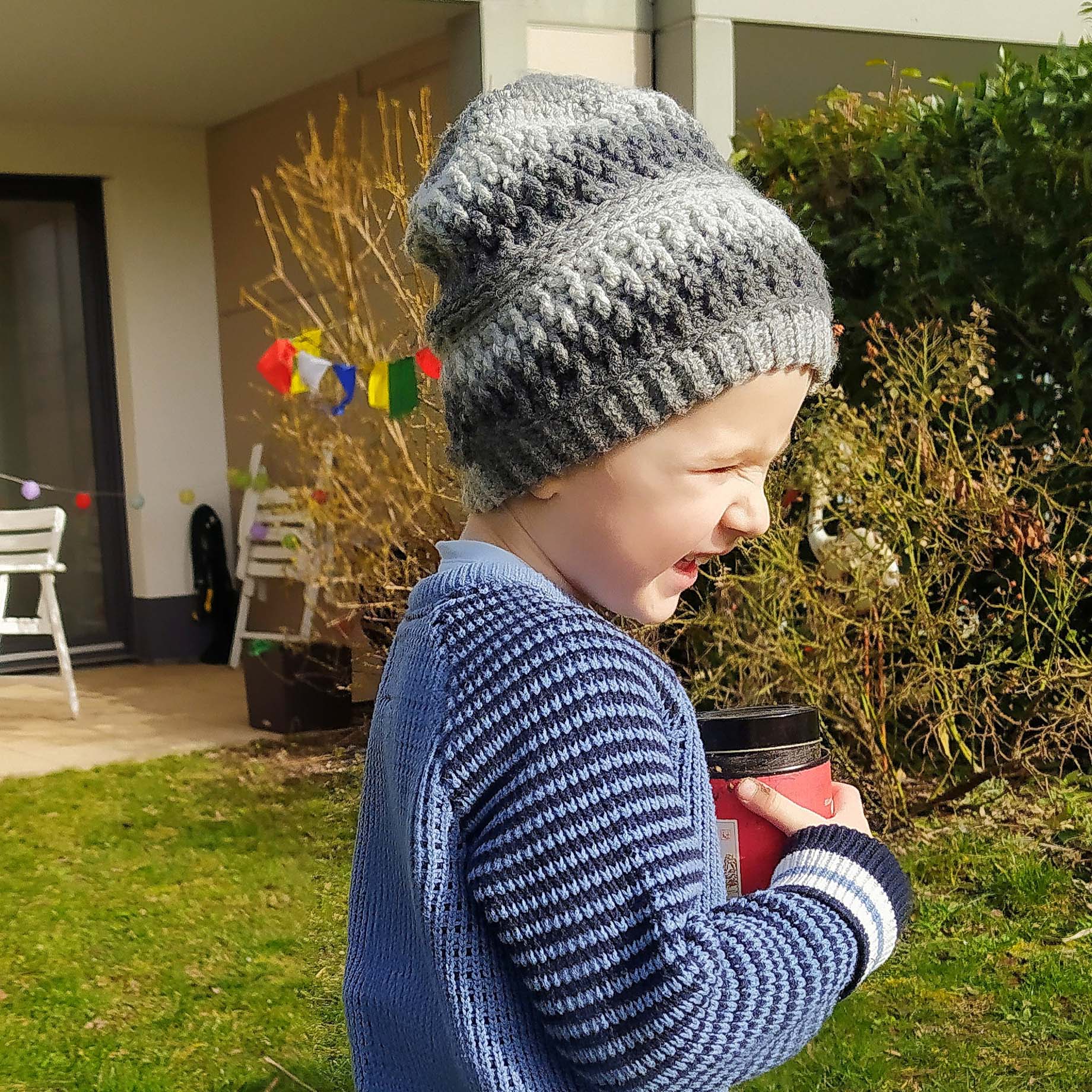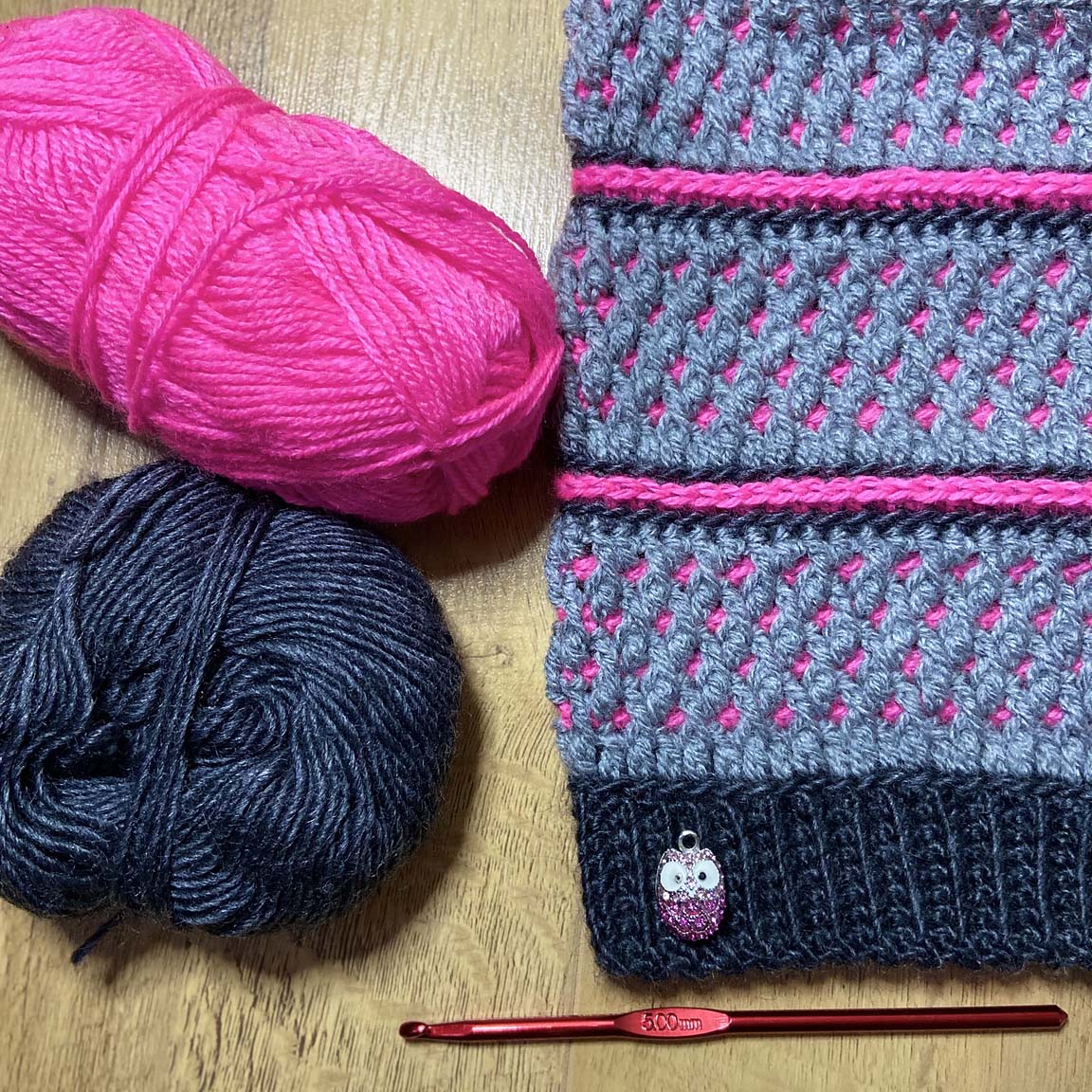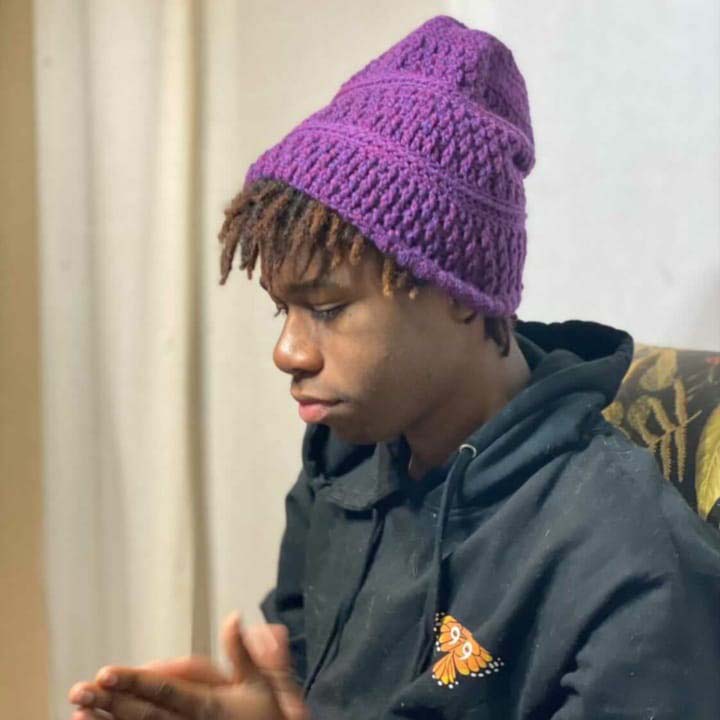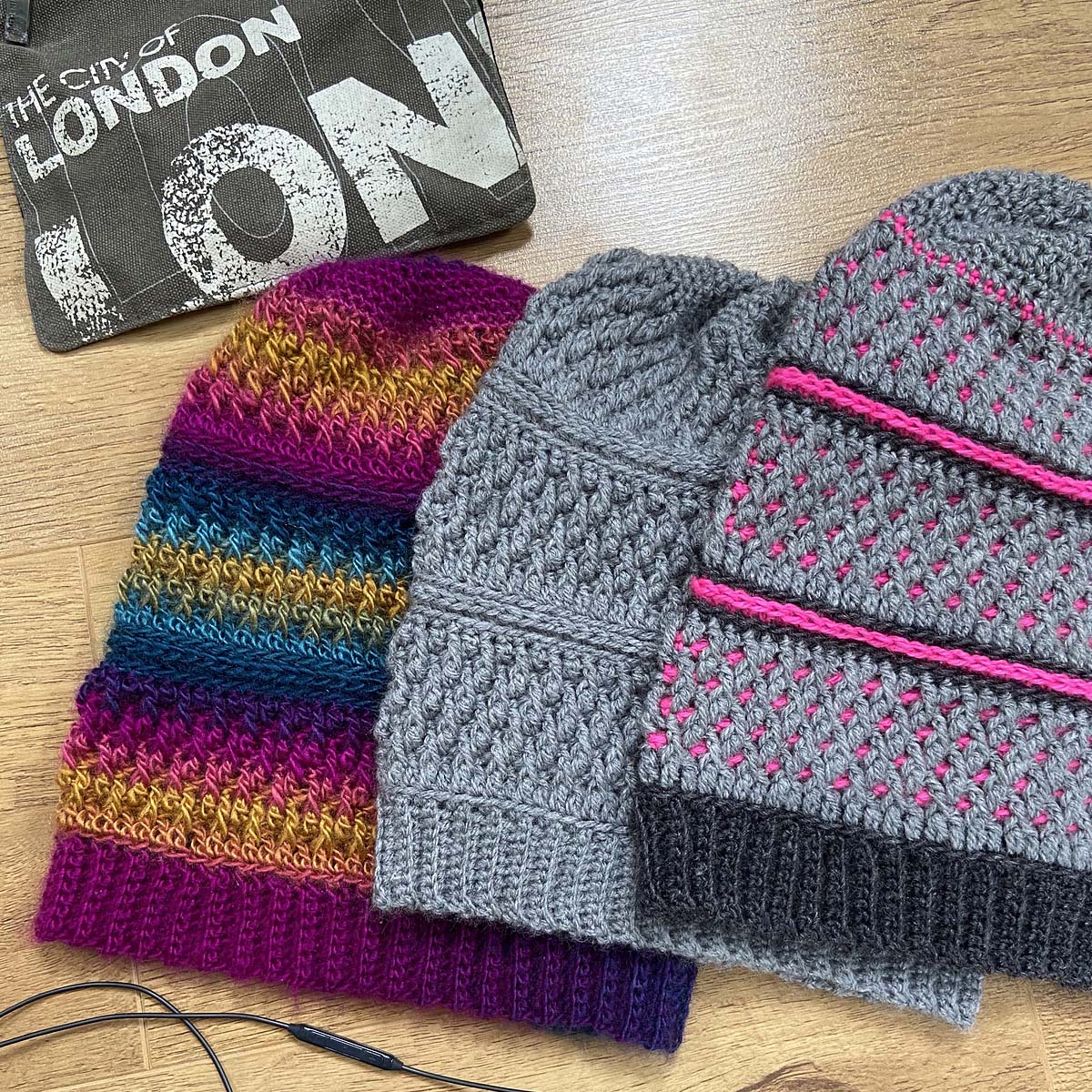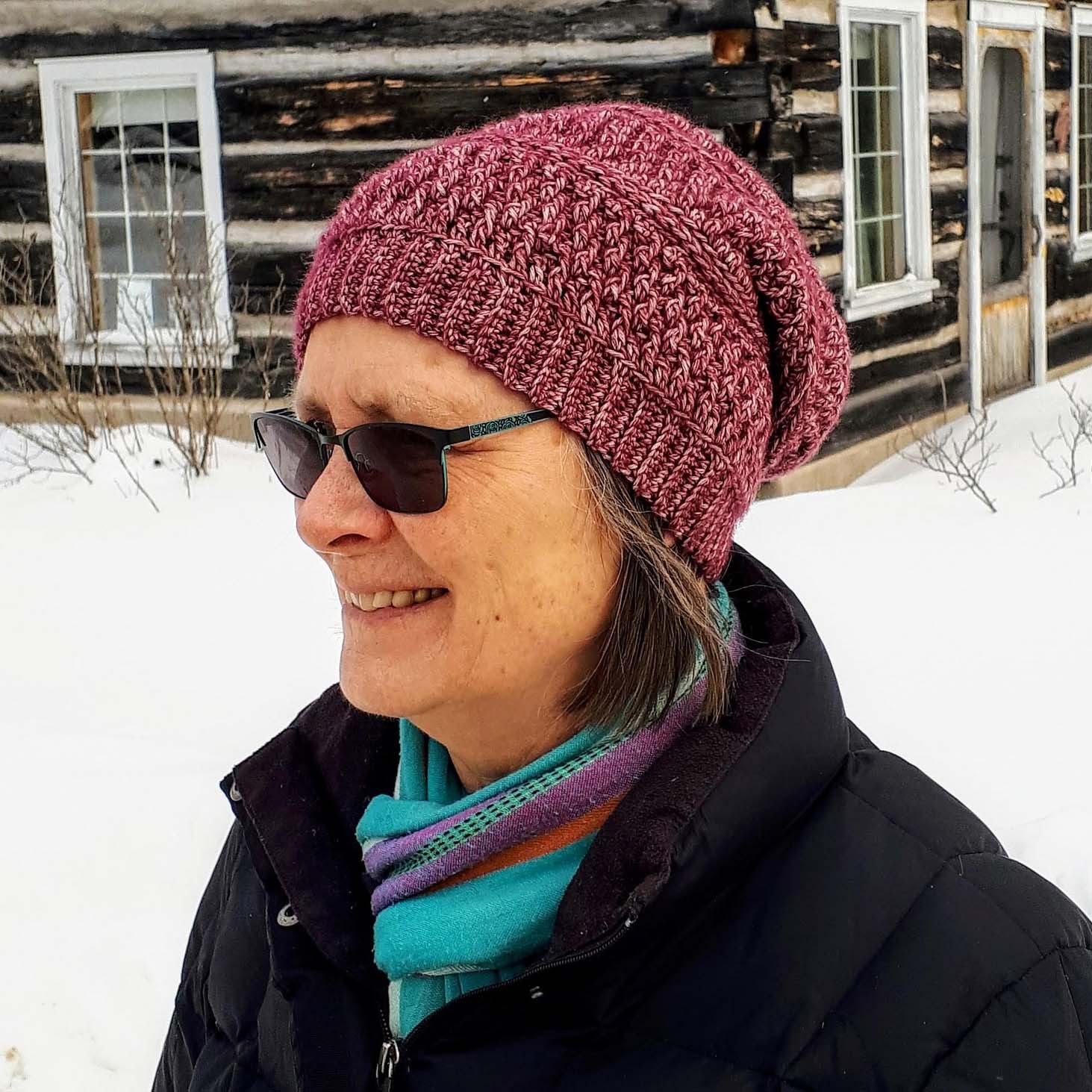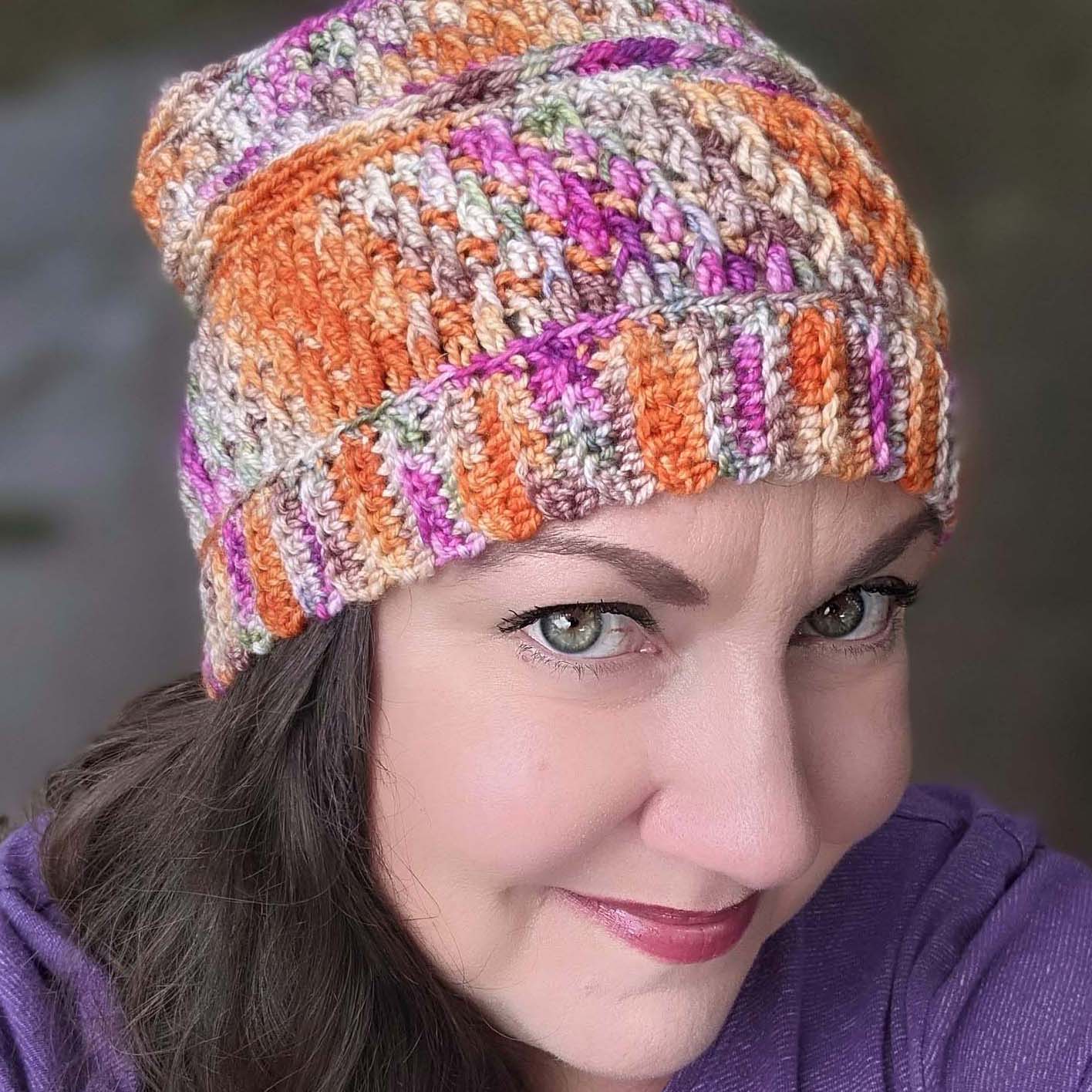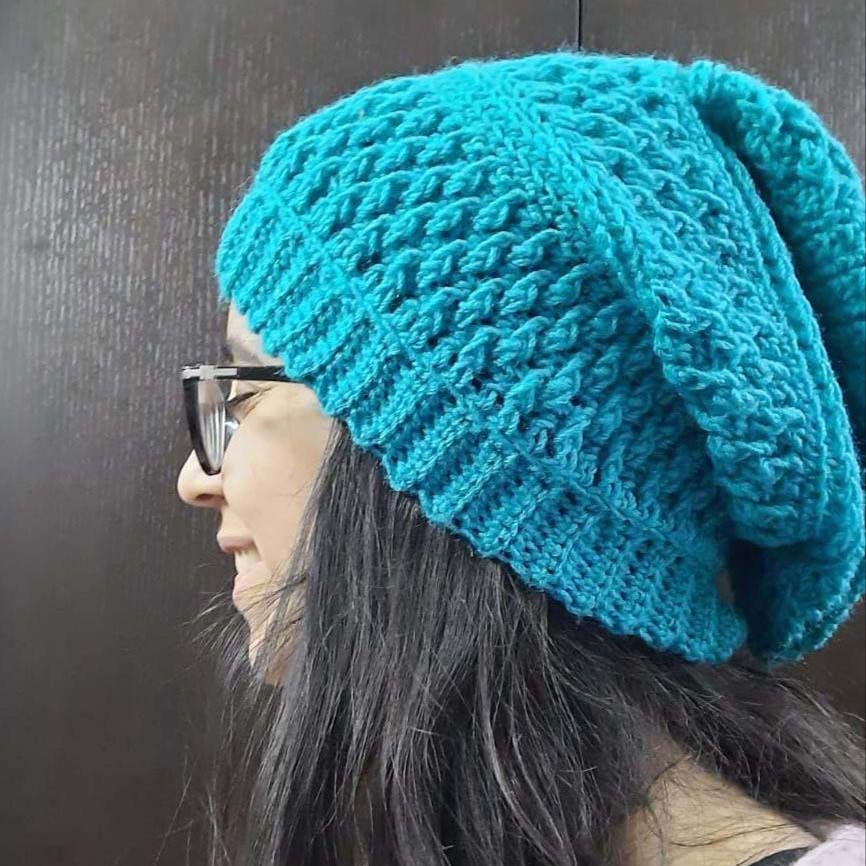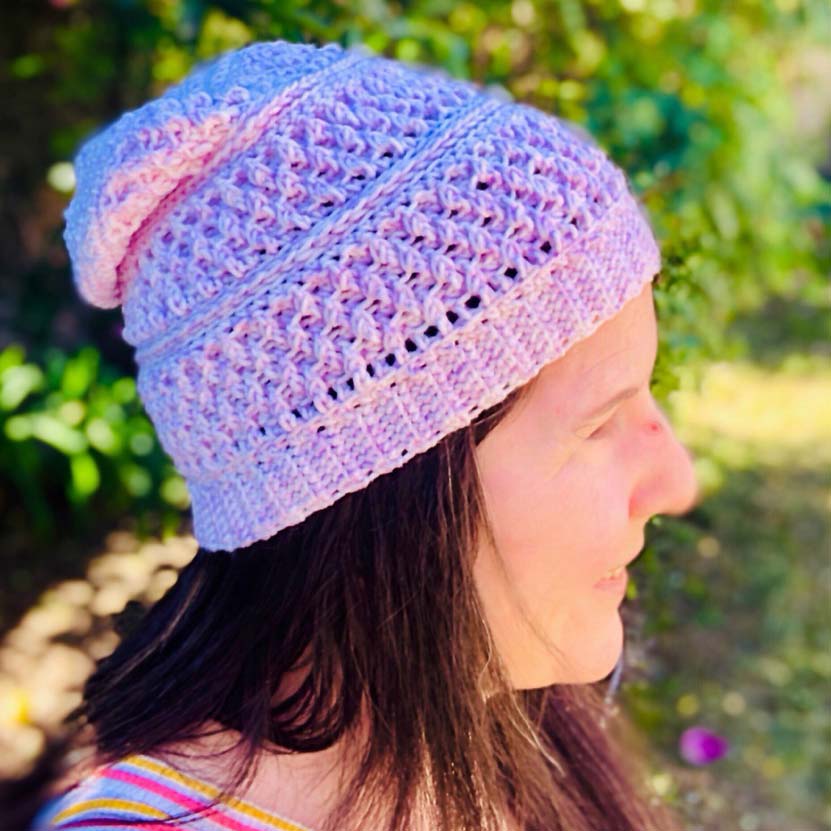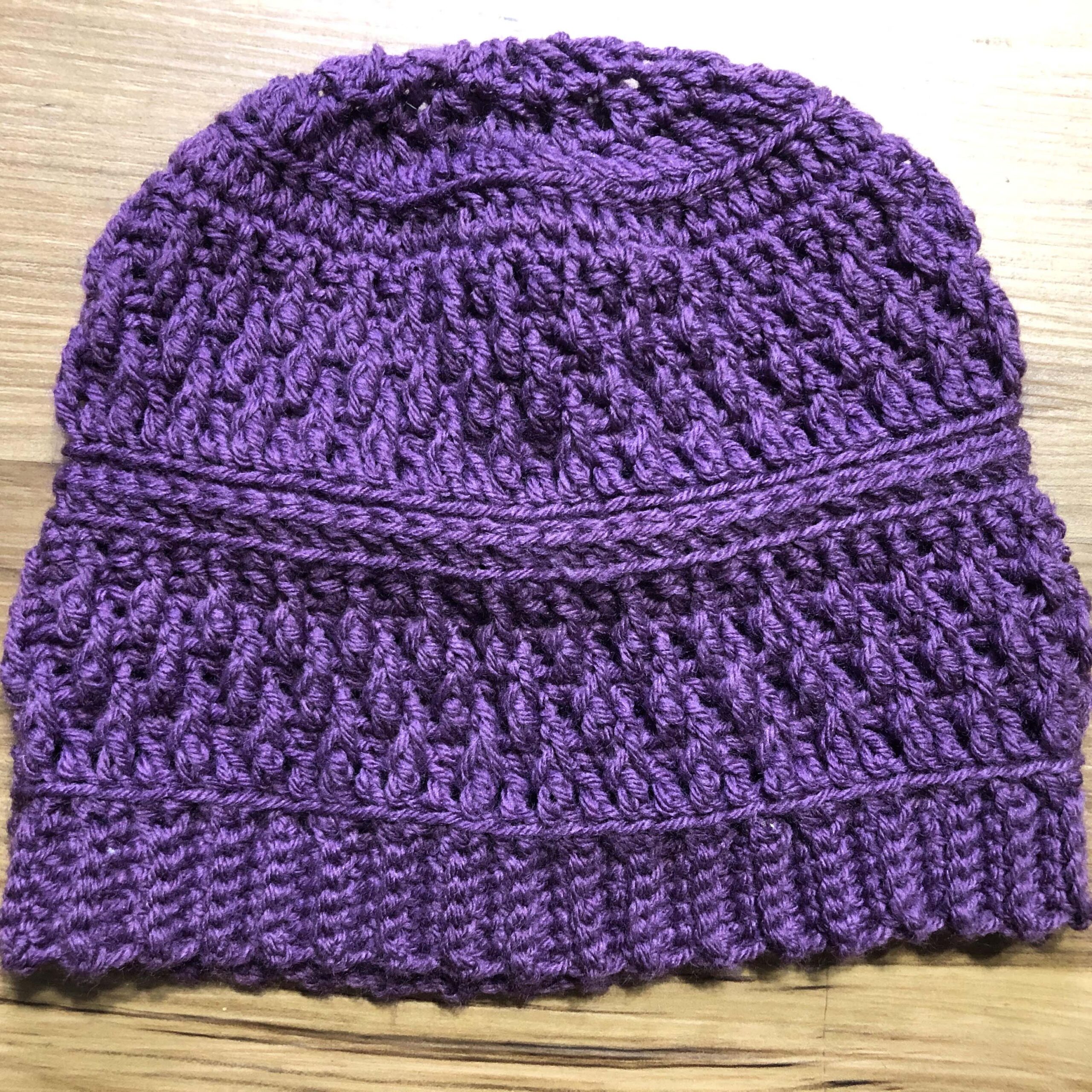 I'd LOVE to see your work, so be sure to shout out to me @CrochetHighway on Instagram and use the #CrochetHighway hashtag for a chance to be featured on my stories!
Thirsty for more? Why not check out some of my recently published crochet patterns and stitch tutorials: