For the Love of Tulips Cup Cozy
Style up your coffee to go
Disclaimer: Some links on this page are affiliate links. This means that, if you click through the links and make a purchase, I will earn a small commission at no additional cost to you.
Spring is a playful and blossoming time, and so is the For the Love of Tulips Headband!
A delicate and graceful headband design that can be crocheted in just one sitting. With no sewing and minimal ends to weave in, this beaut will bring spring into your life in no time!
Make your very own textured and eye-catching headband with this detailed pattern! The printable PDF pattern includes 12 pages of detailed instructions, tips & tricks, as well as 33 step-by-step tutorial photos.
NEW! Instructions on how to turn this headband into a bookmark are included inside.
Take spring with you everywhere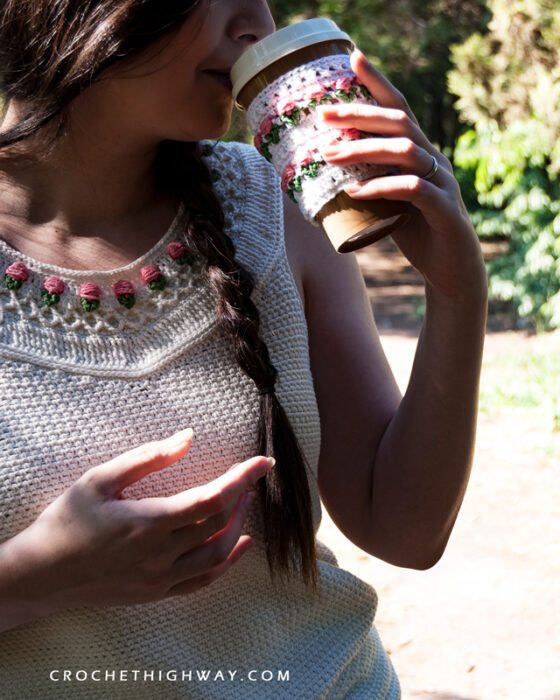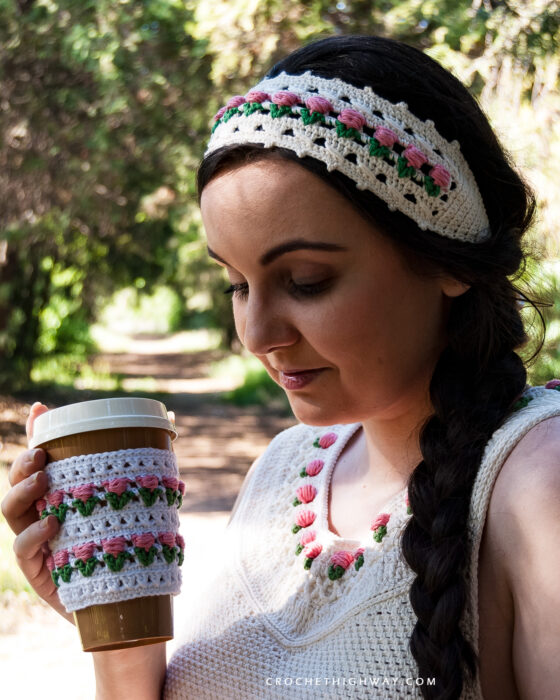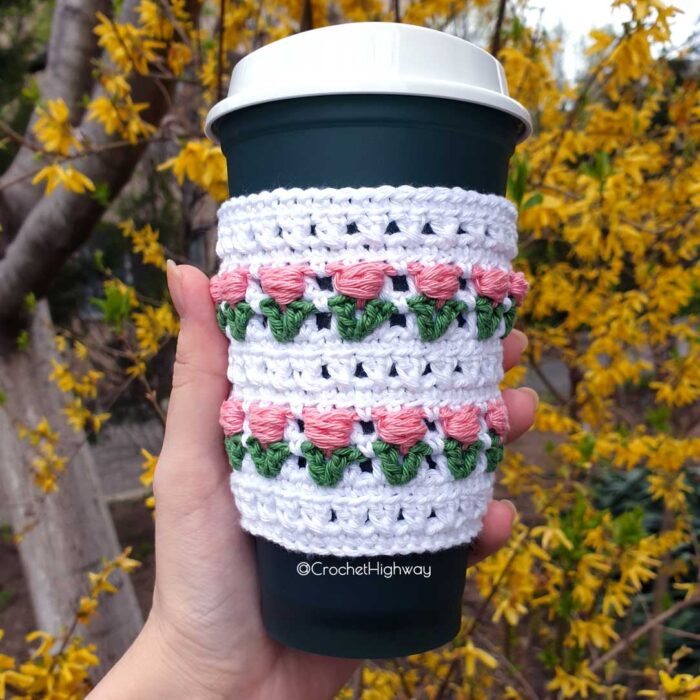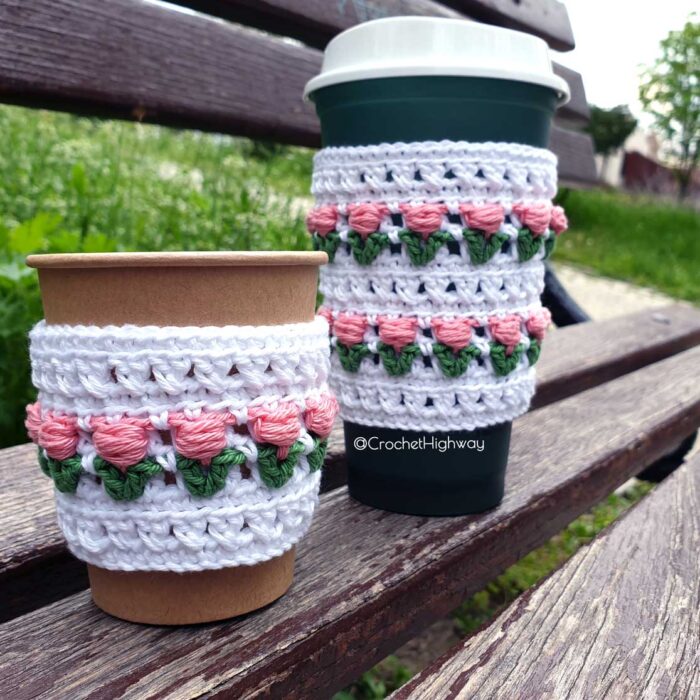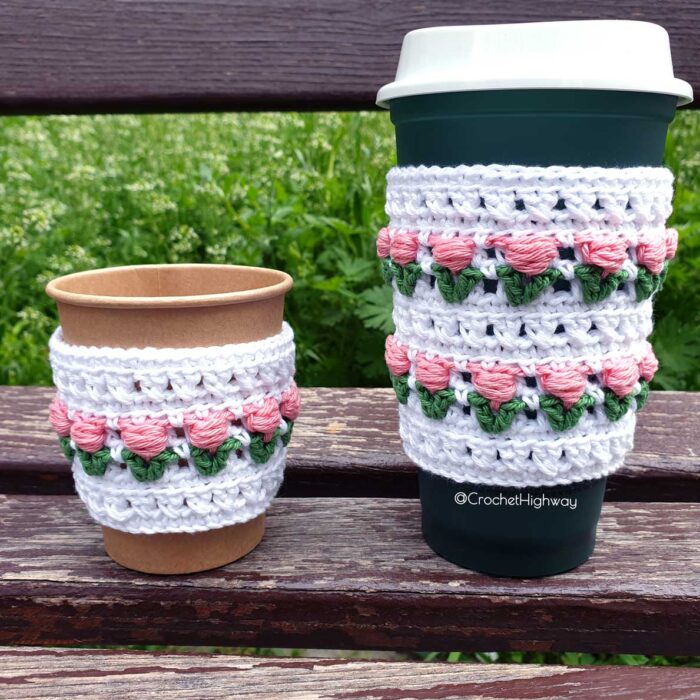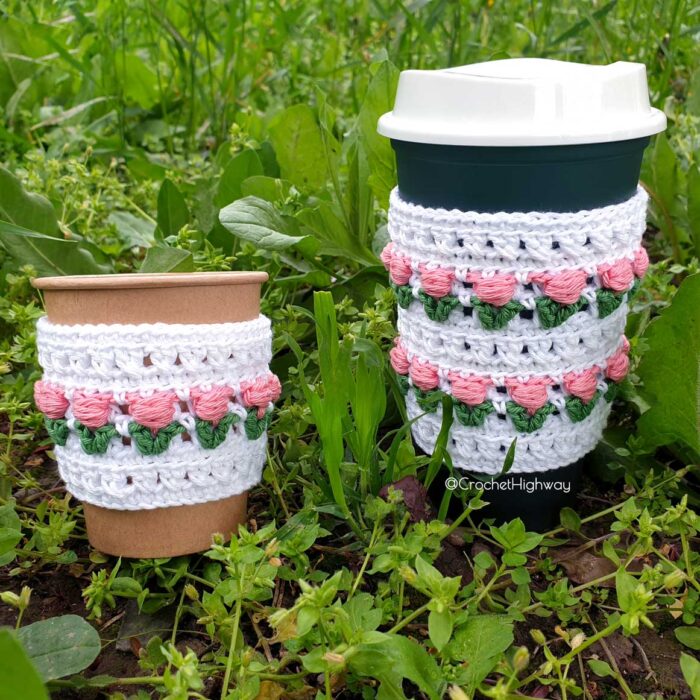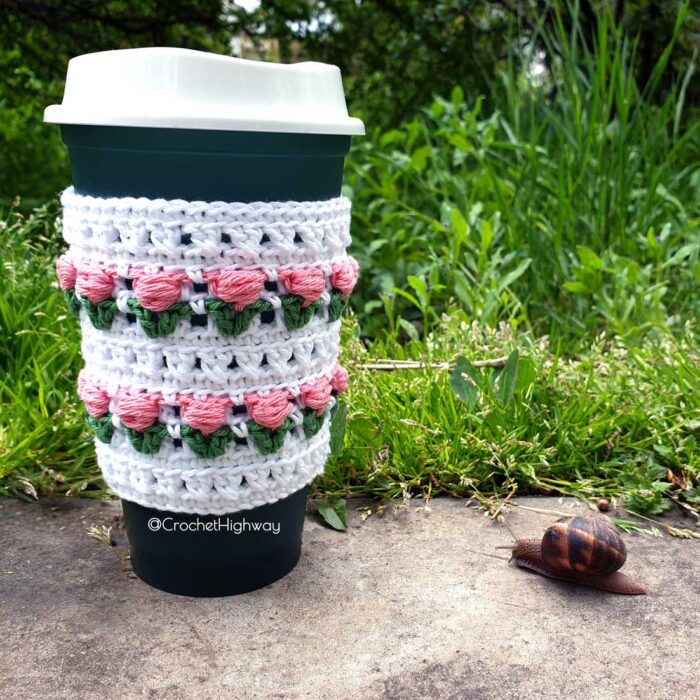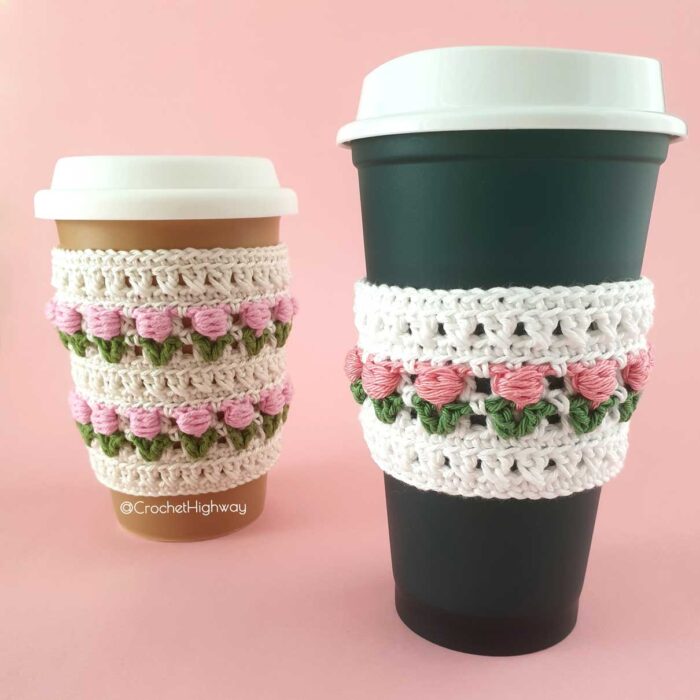 11 pages of step-by-step instructions & tutorial photos
Written for 2 sizes and easily adjustable
60-65 yards of any sport weight yarn
Scissors, darning needle, stitch markers
Please contact me at thecrochethighway [at] gmail.com for pattern related questions.
Who doesn't love tulips? This easy-to-follow crochet pattern is the perfect idea for a gift this spring season! For all lovers of coffee, tea, or hot cocoa, you can now enjoy your drink in style while also keeping your hands safe!
The pattern includes 11 pages of detailed instructions and tips, and 54 step-by-step pictures to guide you along the way!
Size of finished object:
Longer version: ca. 9.5 by 24 cm (3.75" by 9.5")
Shorter version: ca. 5.5 by 24 cm (2.15" by 9.5")
This pattern is written in English and uses standard US crochet terminology.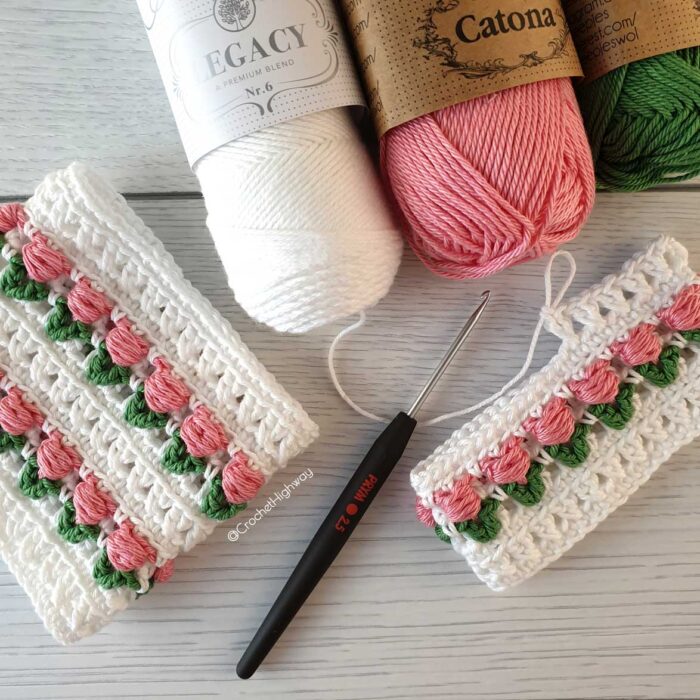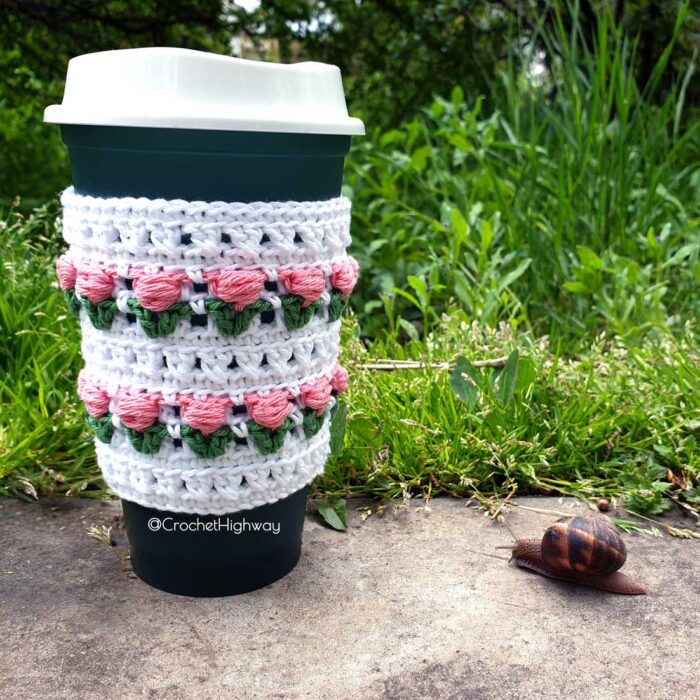 The level required to successfully complete this pattern can be classified as intermediate, but you could crochet this cup cozy as an upper beginner too, if you're willing to take on a challenge!
In this pattern you will find detailed instructions, a bunch of tips & tricks, as well as step-by-step pictures to help you along the way. I provide detailed explanations for pretty much everything you need to know, except for the absolute basics such as the slip knot, slip stitch, chain, single crochet and double crochet.
For the best experience, you should already be comfortable with working the bead stitch and working in the front and back loops, or at least be open to learning with the help of my written instructions and pictures.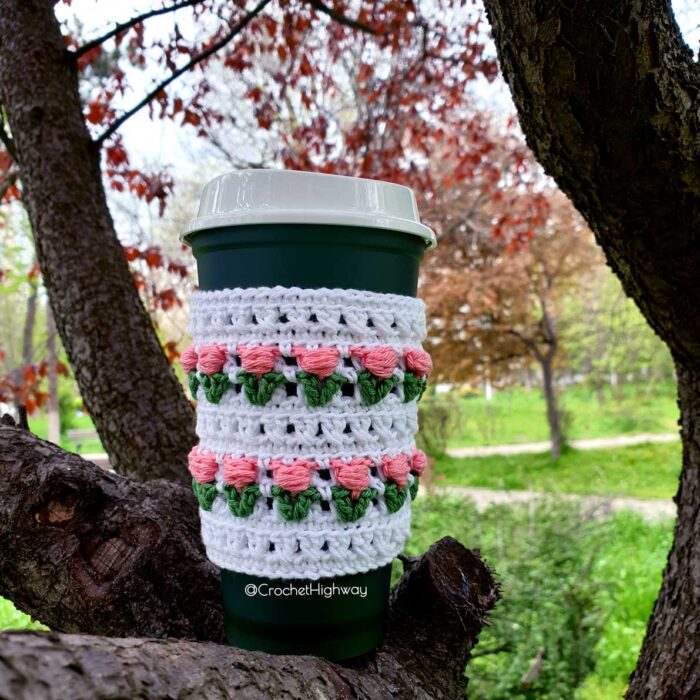 If you're an advanced crocheter and don't need all the tutorial pictures, I have you covered! With your purchase, you will also be able to download a simplified version of the pattern, including only the written instructions and tips & tricks. I also highly encourage you to choose the simplified version for a more environment-friendly printing!
The pattern provides instructions on adjusting the width and circumference of the cup sleeve, so you can use it for any cup! The stitch counts and yarn suggested in this pattern will create a cup cozy suitable for a standard Starbucks cup, with a snug fit around the top and looser around the bottom. Depending on your preferences, you can adjust the stitch count, yarn used and hook size in order to create the perfect cup sleeve!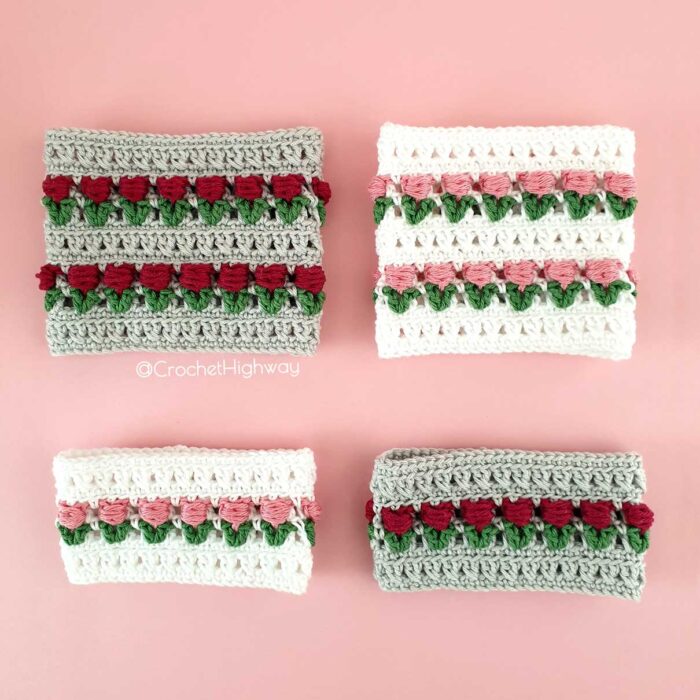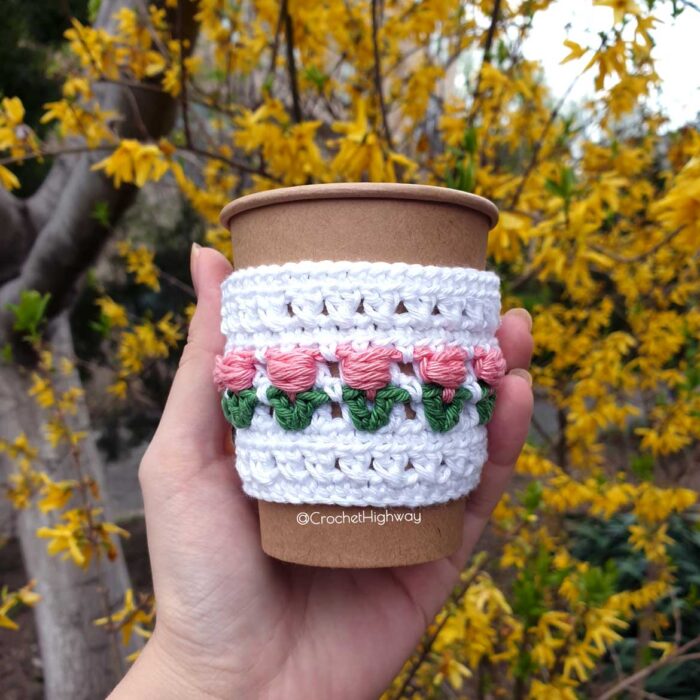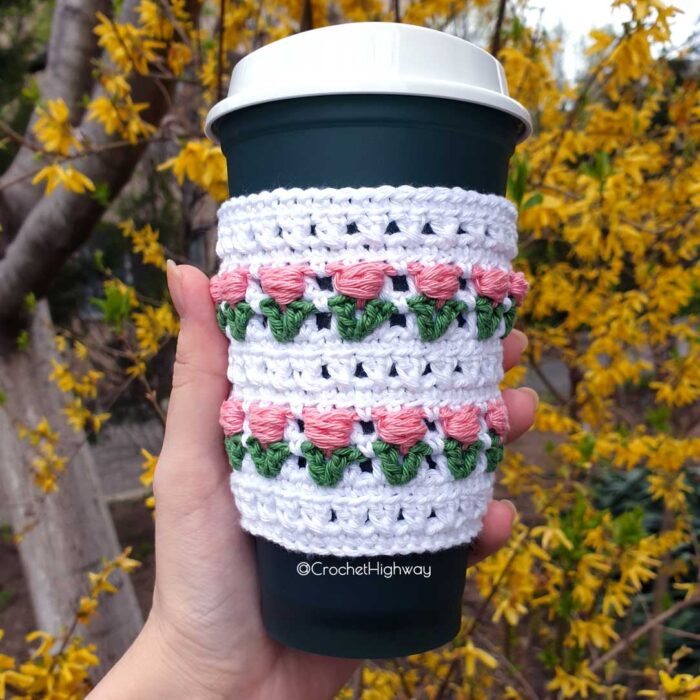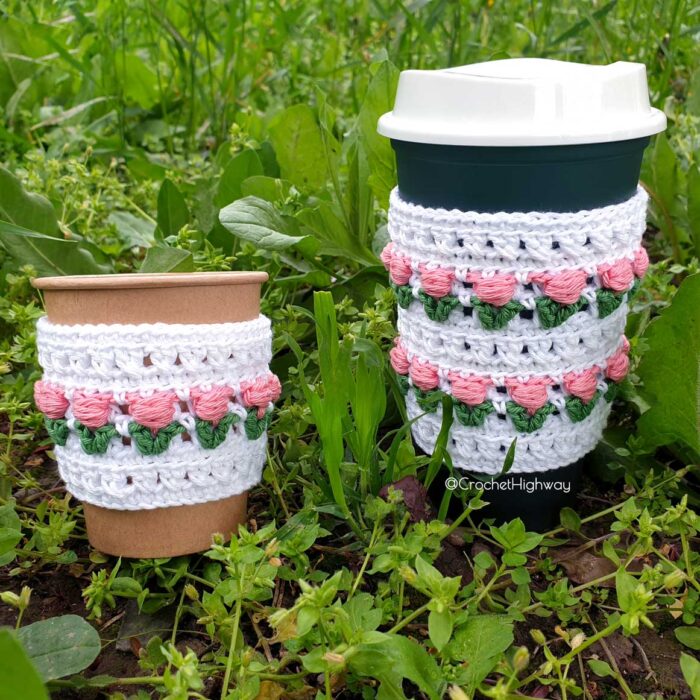 This pattern was tested by my dear friend Claudia @the_cotswold_crochet_lounge. She was my first pattern tester ever and I've been lucky enough to be able to work with her on many, many pattern tests ever since! I'm honored to call her a friend 🌷
Want to test my future patterns? Check out how you can become a pattern tester for CrochetHighway!
Images below courtesy of Claudia @the_cotswold_crochet_lounge.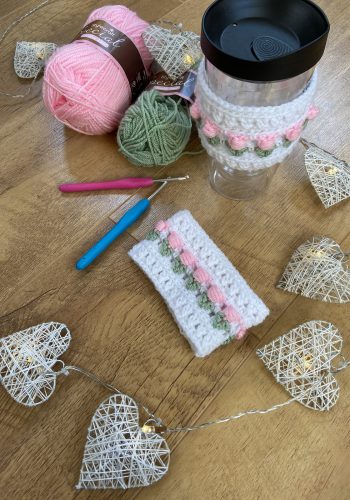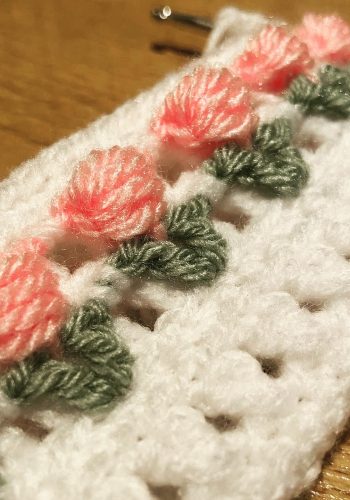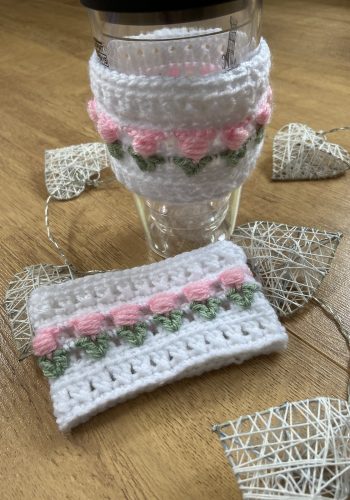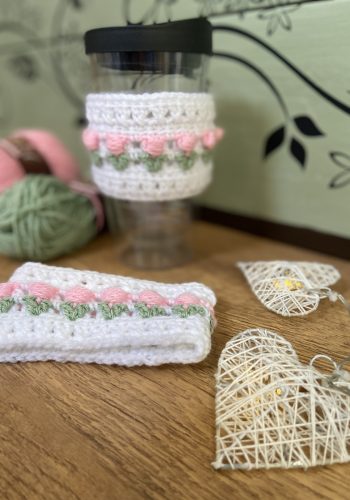 I'd LOVE to see your work, so be sure to shout out to me @CrochetHighway on Instagram and use the #CrochetHighway hashtag for a chance to be featured on my stories!
Thirsty for more? Why not check out some of my recently published crochet patterns and stitch tutorials: