Outside the Lines Planters
Your plants deserve some crochet love too!
Disclaimer: Some links on this page are affiliate links. This means that, if you click through the links and make a purchase, I may earn a small commission at no additional cost to you.
🖤 Step-by-step instructions.
🖤 Tutorial photos and charts.
🖤 This pattern works great with any weight yarn & appropriate hook!
🖤 I used super bulky weight yarn and my 3.5 mm hook. I like to use my Clover Amours.
🖤 You'll also need tape measure, scissors, darning needle, stitch markers.
🖤 Written for 2 sizes (small and large).
🖤 Easy to customize for any size you desire.
🖤 For pattern related questions, please join my Facebook support group or contact me at thecrochethighway [at] gmail.com.
The "Outside the Lines" Planter Covers are a fun way to practice the waistcoat stitch while also decorating the plants around the house with unique and cozy covers! The idea came to me while repotting some of my potted ferns and Dracenas. I needed something nice to dress them up, and instead of buying fancy ceramic pots, I decided to make them myself in crochet.
Join my Facebook support Group
I proud myself with writing ultra-detailed patterns for you, so that your crocheting experience is as smooth and seamless as possible. But whenever you have a pattern related question, my Facebook support group is the place to ask. There you can also share your WIPs and brag about your FOs with the community!
The Outside the Lines Crochet Planters are a set of fun planter covers you can make in any size, yarn weight, or color combo imaginable. The pattern is written for two different styles – the first two only require changing colors from row to row, while the third one uses the tapestry crochet technique.
You get to practice the waistcoat stitch on the regular style with the horizontal stripes, and then move up to the next level and start doing some tapestry colorwork! Don't forget to check my detailed photo and video tutorial on how to master the waistcoat stitch.
These crochet planter covers are worked from the bottom up in a circular fashion. The pattern walks you through the base and body of the planter covers, with row-by-row instructions, charts and photo tutorials.
You can easily adapt the circumference and height and turn these into other home decor items such as baskets or pencil holders – your imagination is the limit!
I used a super bulky yarn sourced locally. I had this yarn in my stash for a while now, so it was time to put it to good use.
3.5 mm hook on super bulky yarn?
You may have seen under materials that I used a 3.5 mm hook on super bulky weight yarn – yes, you read that right! And that's because the waistcoat stitch is different than most crochet stitches. With this faux-knit stitch, you have to exaggerate the golden loop by a whole lot (see my video tutorial on the waistcoat stitch where I explain it in detail). Which means the hook size doesn't really matter. And if that's the case, then I prefer a super tiny hook because it will be easier for me to insert it in between the "V" of the stitch below.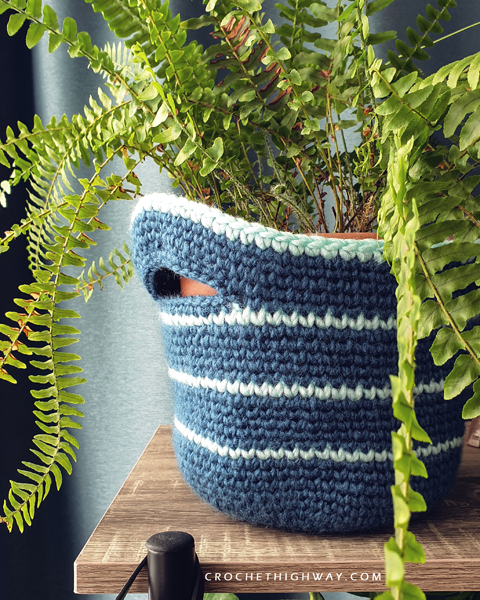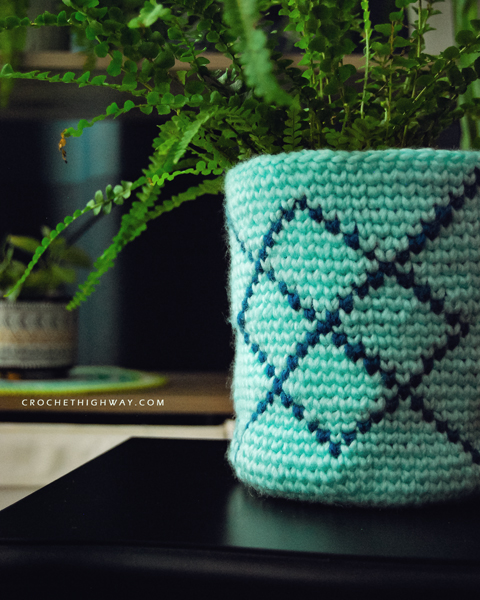 Yardages and measurements listed below reflect the designer sample (one set of 3 planter covers using super bulky yarn). You may use any yarn weight with an appropriate hook size. If your gauge is different, your finished measurements and required yardage will also vary.
Yardages:
Small striped planter: 167 m (183 yds) of ultramarine and 26 m (29 yds) of aqua
Large diamonds planter: 66 m (73 yds) of ultramarine and 74 m (81 yds) of aqua
Large striped planter: 22 m (25 yds) of ultramarine and 183 m (201 yds) of aqua
Finished measurements:
Small planter: 16 cm (6¼") base diameter, 50 cm (19¾") circumference, 11 cm (4¼") height
Large planter: 18 cm (7″) base diameter, 56 cm (22″) circumference, 13 cm (5¼") height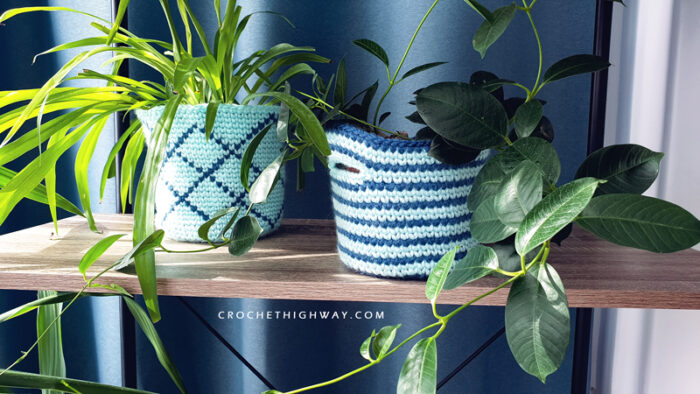 Check out my testers' versions
My patterns would not be so smooth without the input of my team of talented testers. Scroll alllll the way to the end of this photo gallery for some inspiration on various colors. Swipe left & right for more photos of your favorite versions!
Want to test my future patterns? Check out how you can become a pattern tester for CrochetHighway!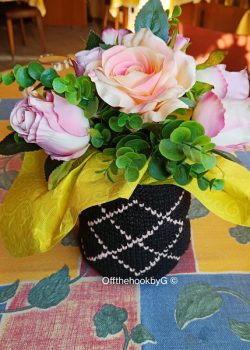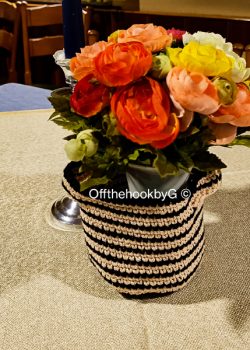 Using Kotton Rugged 8 ply (aran weight) and a 3.5 mm hook
Diamonds planter: 135 yds (MC), 65 yds (CC)
Striped planter: 110 yds (MC), 82 yds (CC)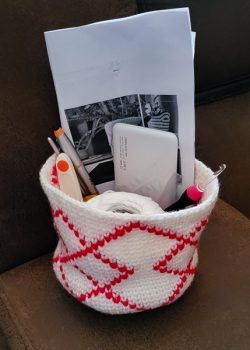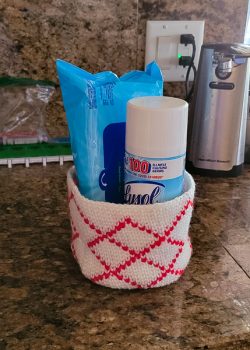 Using 157 yds of worsted weight yarn and a 3.75 mm hook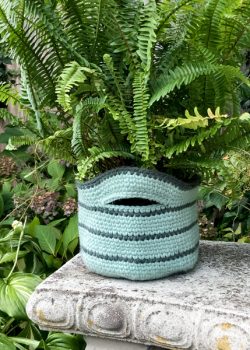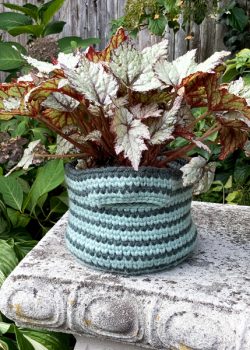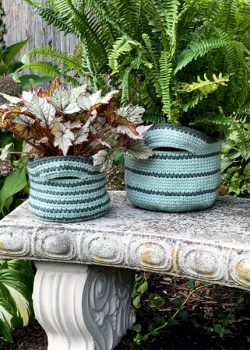 Using Lion Brand Hue + Me (bulky weight)
Small planter: 80 yds (MC), 95 (CC), 4.5 mm hook
Large planter: 157 yds (MC), 24 yds (CC), 5.5 mm hook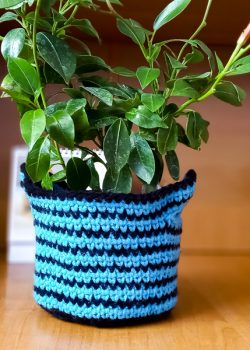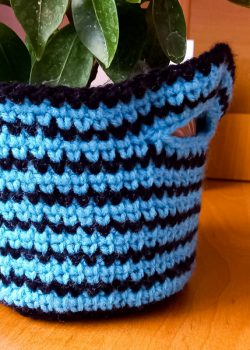 Using 50 yds (MC) and 40 yds (CC) of Madame Tricote Paris Favori yarn (worsted weight) and a 4 mm hook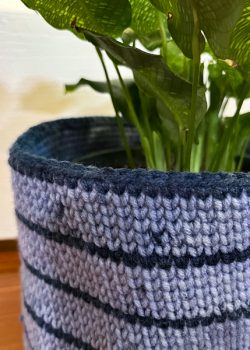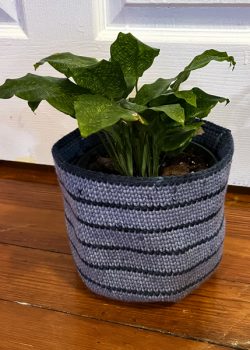 Using 208 yds (MC) and 32 yds (CC) of Caron Big Cakes (aran weight) and a 3.5 mm hook

I'd LOVE to see your work, so be sure to shout out to me @CrochetHighway on Instagram and use the #CrochetHighway hashtag for a chance to be featured on my stories!
Thirsty for more? Why not check out some of my recently published crochet patterns and stitch tutorials: